Tough customer: Tony Gibson at NHMS after emergency surgery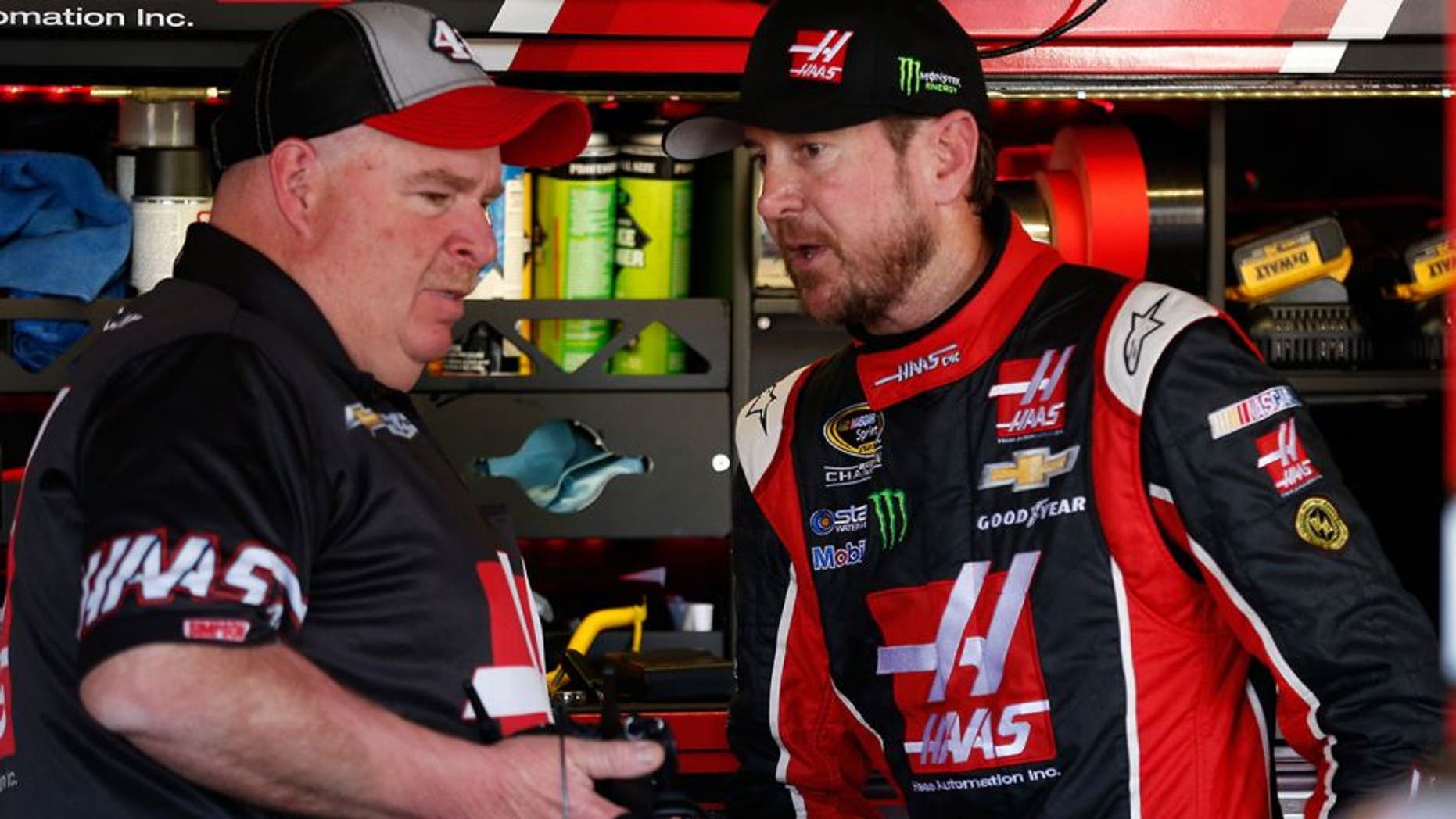 As tough guys in NASCAR go, they don't get any tougher than veteran crew chief Tony Gibson, the pit boss for the No. 41 Stewart-Haas Racing team of driver Kurt Busch.
After undergoing an emergency appendectomy on Tuesday, Gibson was at the racetrack on Friday after Busch sent his plane back to Charlotte, North Carolina earlier in the morning to fly the leader of his team to New Hampshire Motor Speedway.
Although it initially appeared that Gibson would not be released from the hospital until next week, the plan changed -- with a little prodding from the crew chief.
"The doctor wasn't going to release me until next Tuesday, so my wife talked him into Saturday afternoon, and I talked her into today," Gibson said on Friday at NHMS while standing outside Busch's No. 41 hauler. "I gained a few days on them, but thanks to Kurt for sending the plane home to get me, and (Brad) Keselowski offered his plane to come and get me and bring me up here. Everybody in this community, we're all friends and family, and the support was there to get me up here. We worked it out and I'm here. I'm fine, we've just got to tough it out and roll with it. It's what we do."
Despite suffering from severe abdominal pain for a couple days, Gibson didn't suspect a major health issue, only to learn from a CAT scan that he would need emergency surgery.
"They shipped me by ambulance over to the hospital and got me in there and put me right in a room, and it wasn't two hours later they were doing surgery. Everybody did a good job. It was fast," Gibson said. "It happens fast, but I didn't think it was anything that serious. It just felt like a stomach ache. I didn't feel like I was dying or anything like that, but I guess it was more serious than I thought, or at least it could have been if I had waited a little bit longer. I feel good. I've had a lot of people call me and text me, and that makes you feel better."
Although in good spirits on Friday, Gibson admitted that he wasn't feeling 100 percent.
"The worst thing about this is I'm so sore," he said. "Where they did the incisions and stuff is just really extremely sore, and my energy level's down a little bit. They did the surgery, and I went home and I'd get up every hour and walk just to try to keep everything moving. I don't do (stairs) or anything yet, I don't lift anything for about four weeks, but I feel better each day. Wednesday was really tough, Thursday was a little bit better, and today's pretty good."
Does Gibson plan to stay the whole weekend if his pain should take a turn for the worse?
"I'm staying," he said. "I got the hall pass to be here, so I'm going to use it. I'll stay all weekend, and go back home, go back to the doctor on Thursday, and then we'll go from there."
Gibson considered skipping Friday's activities at the track, but ultimately decided it was important to be here -- especially with Busch being one of the 16 Chase drivers who each have a shot at the 2015 Sprint Cup title. Busch is fifth in the standings, just four points out of the lead.
"I love this stuff, I love the sport, and that's why it's going to be so hard for me to stay home when I do decide to do that," Gibson said, referring to retirement. "It's going to be tough. I miss it. It would have been worse for me to sit home and watch it. The guys are more than capable of doing it without me, that's for sure, but I just feel like we're a team and leave no man behind. They were texting me every day, so I just feel like I've got to be here to support them and pull my weight."
If there's any silver lining from Gibson's health scare, it's that it has contributed to him recently shedding 26 pounds.
"I've lost a lot of weight really fast, which I thought at first was maybe my gall bladder, because people that lose weight really fast seem to have gall bladder problems, but my gall bladder was fine," he said. "At the end of the day it's over with and I'm still losing weight -- I'm down to 237 this morning, so I was happy for that."
Gibson then joked that last weekend's final caution, which ultimately cost Busch a win, might have led to this week's health scare. Gibson also echoed his driver's thoughts post-Chicagoland that the final yellow -- which flew for debris -- may not have been necessary.
"When you're leading with 10 (laps) to go, they're never necessary, but you don't want somebody running over something either," Gibson said. "I didn't see the debris. I don't know where it was. They (NASCAR) said they got something picked up, but if it was (debris), that's what needed to get done. But you just don't want to see them when you're leading."