Toronto Blue Jays' Yunel Escobar Suspended for Homophobic Slur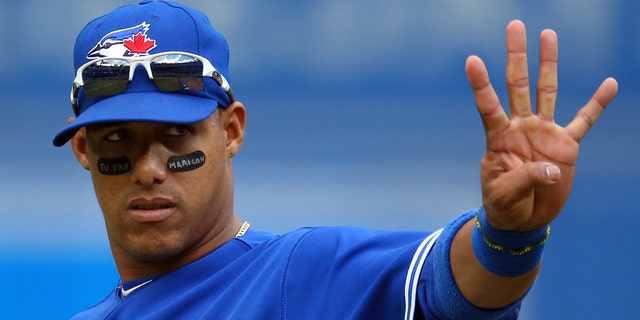 TORONTO – Toronto Blue Jays shortstop Yunel Escobar has been suspended for three games for using a written homophobic slur on his eye-black during a baseball game.
The suspension issued by Major League Baseball was announced in a press conference at Yankee Stadium on Wednesday for the incident that occurred Saturday at a game against the Boston Red Sox.
"I'm sorry for what happened, and I guarantee this won't happen again in my career," Escobar, 28, said at a Tuesday press conference through a translator.
The Blue Jays have also promised to donate all of Escobar's lost salary, during the suspended three games, to the You Can Play foundation and the Gay & Lesbian Alliance Against Defamation.
Escobar will also have to participate in an outreach initiative to help educate others about sensitivity and tolerance toward others based on sexual orientation.
While the Cuban born ball player was wearing the same uniform as his teammates, his eye-black, a sticker players wear under their eyes to reduce glare from the sun, appeared to have a profane message scribbled across it.
Since then pictures surfaced showing what appeared to be a homophobic slur in Spanish written on the eye-black. [See Photo Above]
While the slur did not appear to be directed towards any one person in particular, Major League Baseball did not take the matter lightly.
MLB spokesman Pat Courtney confirmed on Monday that the commissioner's office was looking into the reports.
"The club takes this situation seriously and is investigating the matter," the Blue Jays said in a statement Monday night, adding they "do not support discrimination of any kind nor condone the message displayed by Yunel Escobar during Saturday's game."
Escobar missed Sunday's game with the flu and will be back on the field for the first time since the incident Tuesday against the New York Yankees.
Escobar re-signed with the Blue Jays last year in a $10 million, two-year deal, this season he has a .251 Batting Avg.., 9 homeruns, and 49 RBI.
Based on reporting by the Associated Press.
Follow us on twitter.com/foxnewslatino
Like us at facebook.com/foxnewslatino