Top Seed Ohio State Favored to Win NCAA Tournament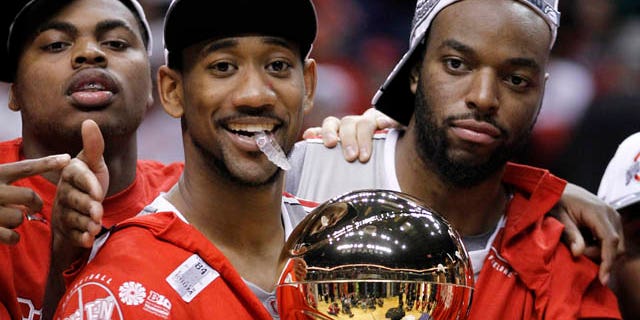 LAS VEGAS -- Sports books in Las Vegas casinos made Ohio State the favorite to win the NCAA tournament despite a tough draw that includes North Carolina, Syracuse and Kentucky in the same bracket.
The race and sports book at the Las Vegas Hilton made Ohio State a 7-2 favorite to win the tournament, Executive Director Jay Kornegay said Sunday shortly after the selections for the tournament were announced.
But Kornegay said the Buckeyes got a more difficult bracket than fellow No. 1 seed Pittsburgh, which has Florida, BYU and Wisconsin as the next-highest seeds in its region.
"Actually, Pittsburgh and Ohio State should be switching spots," Kornegay said. "It's unusual for a No. 1 seed to have to deal with that kind of competition or those kind of teams that have the potential of playing very well and being competitive."
Kornegay and others still think Ohio State is the best team in the country.
The Buckeyes finished the season 33-2, winning the Big Ten tournament and regular-season titles to reach the NCAA tournament for the fifth time in seven years. They will play the winner of the Texas-San Antonio-Alabama State game in Cleveland on Friday.
Oddsmaker Tony Sinisi of Las Vegas Sports Consultants, which provides betting lines to more than 90 percent of casinos in Nevada, said the firm planned to set its lines Sunday night but sees Ohio State as a 5-2 favorite.
Mike Colbert, race and sports director for Cantor Gaming, which runs four sports books in Las Vegas, said Ohio State's tough draw was enough to put it on par with Kansas as 6-1 favorites to win the title.
"There's four legit -- legit -- national champion contenders in the same bracket," said Colbert, who runs books at the Cosmopolitan of Las Vegas, M Resort, Hard Rock Hotel & Casino and Tropicana. "It's a loaded bracket."
If the high seeds all win, the Buckeyes would have to beat Kentucky in the round of 16 and North Carolina in the round of eight to win its bracket. Conversely, Pittsburgh would have to beat Wisconsin and Florida.
The Hilton gave Pittsburgh 12-1 to win the title, Kornegay said. The other No. 1 seeds, Kansas and Duke, were each 5-1 to win the tournament.
Cantor gave Duke 9-1 odds and Pittsburgh 10-1 odds, Colbert said.
Among No. 2 seeds, Colbert said San Diego State got the easiest draw in the western region, with Duke at the top and Connecticut the No. 3 seed.
"I wouldn't be surprised at all to see them get into the Final Four," he said.
Click here for a printable NCAA Tournament bracket from FoxSports.com.