Top 5 storylines surrounding the 2017 Baseball Hall of Fame class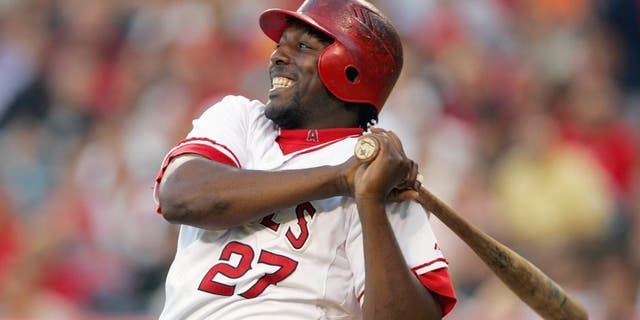 NEWYou can now listen to Fox News articles!
Happy Election Day! Or should I call it Hall of Fame Day? Announcement Day? Forgive a Steroid User Day?
Whatever your choice, the newest members of the Hall will be revealed Wednesday night on MLB Network at 6 ET.
Here are my top five storylines.
The number of players elected
Three would be good, four even better, five a cause for outright celebration.
That's right, I'm rooting for a big class, and not simply because the ballot remains overcrowded.
As sabermetric web sites such as Fangraphs and FiveThirtyEight first explained, players from recent decades remain severely under-represented.
About 1.4 percent of all players in major-league history are Hall of Famers, according to numbers compiled by MLB Network's Keith Costas from baseball-reference.com.
Well, the current percentage of Hall of Famers who made their major-league debut in the 1970s is 1.1 percent. In the '80s, it's 0.9 percent. In the 90s, 0.2 percent.
Virtually all of the prominent candidates on this year's ballot made their debuts in the 80s and 90s; some, such as Vladimir Guerrero and Ivan Rodriguez, are appearing on the ballot for the first time.
The Baseball Writers Association of America, of which I am a member, needs to stop holding players from recent eras to a higher standard.
Oh, and by the way, forget about any incarnation of the Veterans Committee fixing the problem.
The VC, in its various forms, has not elected a living player since Bill Mazeroski in 2001.
The percentages for Barry Bonds and Roger Clemens
Both Bonds and Clemens entered the day at just above 60 percent on the publicly revealed ballots, which account for more than half of the expected number. Both were around 50 percent on last year's publicly revealed ballots, and ended up at around 45 percent, according to Ryan Thibodaux's annual Hall of Fame tracker.
Even a jump into the mid-50s would represent significant gains for Bonds and Clemens, with 75 percent required for induction. Still, this is the fifth year on the ballot for both, and they are in a race against time.
In 2014, the Hall's Board of Directors reduced the maximum number of years that a candidate can be considered by the BBWAA from 15 to 10 -- a move seemingly designed to expedite the elimination of players linked to performance-enhancing drugs.
Would Bonds and Clemens gain the necessary 20 percent or so in their final five years of eligibility? Their jumps this year -- which are likely to be bigger than any of their previous increases -- would indicate that the answer is yes.
Younger voters, who tend to be more forgiving of players connected to PEDs, are entering the BBWAA. At the same time, older members who tend to oppose such players are losing their voting privileges; the Hall decided in 2015 to limit the voting body to writers who had been on the beat in the past decade.
(I voted for both Bonds and Clemens, and revealed my ballot in this previous column.)
The first timers
Rodriguez was at 78.1 percent in Thibodaux's latest tracker, Guerrero at 71.2 percent. The final percentages typically are lower than those that Thibodaux compiles, so it's entirely possible that neither will be elected.
Still, 60 percent should be attainable for both, and that's something of a magic number. Excluding current candidates, only Gil Hodges and Jack Morris passed that threshold without being elected at some point, according to SI's Jay Jaffe.
The reduction in eligibility from 15 years to 10 could make it more difficult to ascend from 60 percent to the necessary 75, but Rodriguez and Guerrero still should be in good position.
Rodriguez likely would enter Cooperstown faster than fellow catcher Mike Piazza, who also was suspected of using PEDs and needed four years on the ballot. Piazza's election persuaded some voters, including me, to reverse course on alleged and confirmed users; if Piazza is in, it's more difficult to justify keeping others out.
Guerrero, who is under no such taint, was a singular talent whose career statistics were remarkably similar to Miguel Cabrera's current lifetime numbers. And Cabrera, if his career ended tomorrow, likely would be a first-ballot Hall of Famer.
Curt Schilling
His percentage is going to drop. But by how much?
Schilling, after jumping from 29.2 percent to 39.2 percent to 52.3 percent in the past three elections, upset some voters with a tweet in November that suggested he favored lynching journalists. He said later that he was being sarcastic, but not all believed him.
I voted for Schilling, and do not believe that writers should hold dumb and offensive comments against him. As former major-league pitcher Ron Darling said on MLB Network's recent Hall of Fame round-table, only partially exaggerating: If you took ignorant players out of the Hall, it essentially would be swept clean.
A number of prominent writers, however -- notably Dan Shaughnessy of the Boston Globe and Jon Heyman of FanRag Sports -- have taken a stand against Schilling.
The damage to his candidacy will not be irreparable -- Schilling has six years remaining on the ballot. But according to Thibodaux's tracker, he had a net loss of 12 votes from returning voters -- again, with more than half of the expected number of ballots publicly revealed.
Players who fall off the ballot
This is where I take exception -- again -- with the Hall's insistence of limiting each voter to a maximum of 10 votes.
As I said at the top of this column, we're not electing enough Hall of Famers. The combination of the 10-vote limit and recently implemented 10-year eligibility rule is squeezing too many candidates -- and forcing players who deserve more consideration off the ballot.
I voted for Billy Wagner at the expense of Guerrero, fearing that Wagner might not receive the necessary 5 percent of the vote; Wagner, who had a significantly better career ERA and strikeout rate than Trevor Hoffman, received only 10.5 percent last year, his first on the ballot.
Yes, I view Guerrero as a Hall of Famer, and if he misses by one vote, I will feel terrible. But I felt a strategic vote was necessary, and pledge to vote for Guerrero in the future.
Jorge Posada, according to Thibodaux's tracker, appears to be the most prominent candidate most in danger of falling below 5 percent, but Wagner, Gary Sheffield and Sammy Sosa are among the others in uncertain territory.
Lou Whitaker, Kenny Lofton, Bobby Grich, Kevin Brown, Ted Simmons, David Cone and Jim Edmonds are among the players who lasted just one year on the ballot.
Whitaker, in particular, got a raw deal, but some of the others at least warranted greater conversation; Posada would, too.