Top 25 live blog: Tracking Week 1's action from start to finish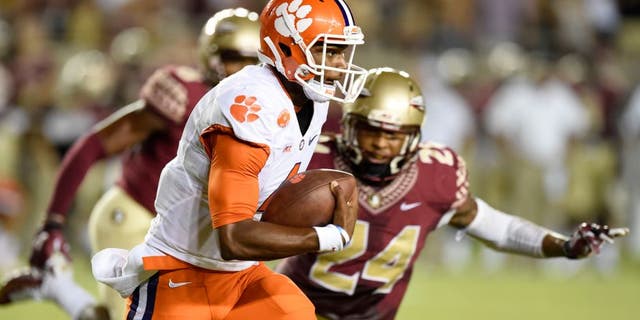 NEWYou can now listen to Fox News articles!
The Saturday portion of college football's Week 1 is finally here, and the day kicks off with four games in the early window, highlighted by No. 21 Stanford vs Northwestern. FOX Sports is tracking all of today's Top 25 action here and on our live scoreboard.
Alabama vs. Wisconsin is the day's biggest game among 17 Top 25 contests on the schedule. Who you won't see today -- No. 1 Ohio State opens its season Monday night vs. Virginia Tech. Let's light this candle.
(All times ET)
MORE: Picks | Fantasy: CFB Pick'Em | Mandel: 5 truths to decide Final 4
No. 21 Stanford at Northwestern, ESPN (game trax): Easily the best game of this first time slot. Can Pat Fitzgerald's team make magic happen? Cardinal strike first, but Wildcats answer.
No. 9 Georgia vs Louisiana-Monroe, SEC Network (game trax): FOX Sports' Bruce Feldman ranks Bulldogs RB Nick Chubb the No. 2 player in the country. He's part of the reason UGA is up two scores in the early going.
No. 12 Clemson vs Wofford, ACC Network (game trax): Tigers need Deshaun Watson to stay healthy this year.
No. 17 Ole Miss vs UT Martin, SEC Network (game trax): It'll be fun to see what the Rebels defense can do to the Skyhawks. But it is RB Jaylen Walton and QB Chad Kelly who has starred in the early going.
MID-AFTERNOON GAMES
No. 6 Auburn vs Louisville, 3:30 p.m., CBS (preview): Gus Malzahn is handing the reins to QB Jeremy Johnson. With Bobby Petrino on the other side, there should be plenty of points scored today.
No. 13 UCLA vs Virginia, 3:30 p.m., FOX (preview): Bruins starting a talented true freshman, Josh Rosen, at QB. How does he respond in the opener?
No. 18 Arkansas vs UTEP, 3:30 p.m., ESPNU (preview): Will Hogs go wild on Miners?
No. 24 Missouri vs Southeast Missouri State, 4 p.m., SEC Network (preview): Tigers one of eight ranked SEC teams. That's more than half their league.
No. 25 Tennessee vs Bowling Green, 4 p.m., SEC Network (preview): Your annual reminder that Bowling Green's school colors do not include green.
NIGHT SHIFT
No. 3 Alabama vs No. 20 Wisconsin, 8 p.m., ABC (preview): Tide may not have settled on a starter yet, but will it matter? Badgers getting used to a new coaching staff, even if it is a familiar face (Paul Chryst) at the helm.
No. 7 Oregon vs Eastern Washington, 8 p.m., Pac-12 Network (preview): Vernon Adams facing his old school in his first game with Ducks.
No. 8 USC vs Arkansas State, 11 p.m., Pac-12 Network (preview): Just remember, there will be no alcohol for Trojans coaches after this game.
No. 10 Florida State vs Texas State, 8 p.m., ESPN News (preview): The post-Jameis Winston era begins.
No. 11 Notre Dame vs Texas, 7:30 p.m., NBC (preview): Can Charlie Strong get his team off the mat, or will Brian Kelly's crew keep them there?
No. 14 LSU vs McNeese State, 7:30 p.m., SEC Network (preview): Two words: Leonard Fournette.
No. 15 Arizona State at Texas A&M, 7 p.m., ESPN (preview): Aggies may not be ranked, but the 12th man is in their favor.
No. 19 Oklahoma vs Akron, 7 p.m. (preview): Can't wait until games like this one become fewer and far between.