Tootoo sparks Preds to second round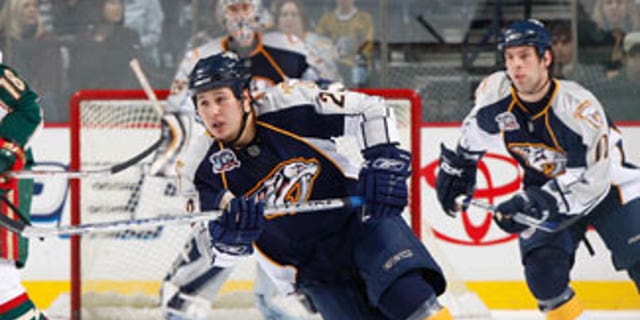 NASHVILLE, Tenn. – On Dec. 27, when Nashville Predators right wing Jordin Tootoo voluntarily entered the NHL's Substance Abuse and Behavioral Health Program, he seemed a longshot to be the player who would earn the primary assist on both the winning goals in Games 5 and 6 of the first-round of the playoffs, helping his team earn its first victory in a playoff series.
But that's exactly what he did. After assisting on Jerred Smithson's overtime goal on Friday in Game 5, Tootoo picked up two more primary assists in Game 6, including on Nick Spaling's game-winner at 4:53 of the third period. His five points (one goal, four assists) tie him for second on the team in the playoffs with Shea Weber and Joel Ward. Mike Fisher is the team leader with six points.
Weber, Nashville's captain, was asked the hypothetical question as to whether he would have believed it if someone had told him before the series that Tootoo would earn those critical assists.
"Wouldn't be my first pick, but the way he's been playing the second half of the year, I wouldn't question someone if they told me that," Weber said. "I mean, he's been so great since he's come back to us. I'm really happy for him. He's a new person. He's playing well and hopefully he continues to do so."
It's a very public event when a player chooses to go into the program. Press releases are issued at the outset and also when the player returns. Tootoo was cleared by the program to rejoin the Preds for practice on Jan. 31. According to a release when Tootoo was cleared to practice, his care was going to continue to be administered by SABH Program Doctors Dave Lewis (NHL) and Brian Shaw (NHLPA). His first game back was on Feb. 11 – a full two months between games.
Tootoo, who totaled 18 points in 54 regular season contests, now has five in six playoff matches.
"Obviously, it's great to contribute offensively," Tootoo said. "For me, I think the game slowed down just a tad bit and, you know, I'm able to make those plays and my linemates are finding those open areas to create chances and we've been pretty fortunate here. Part of our line, we talk about communicating and doing the simple things and I think that's what makes us successful."
Said Preds coach Barry Trotz: "I tell you that Smithson-Tootoo-Spaling line, I have no reservations playing them against anyone. They've been a difference maker the last couple of games."
Tootoo created the game-winning goal by taking puck with speed to the net and putting a shot on Ducks goalie Ray Emery. Emery stopped the initial one, but not Spaling's rebound attempt.
"Part of my game is driving hard to the net and dropping the shoulder and going hard and creating those second and third changes," Tootoo said. "And Spals, obviously, got the rebound there on the game-winner. When you drive hard to the net, good things happen."
Tootoo, the first player of Inuit descent to play in the NHL, has played on all six of Nashville's playoff entrants, so finally winning a series felt good for him.
"Anytime you win a series, it brings joy and happiness to the dressing room," he said. "I'm going to enjoy this one tonight and get back to work tomorrow."
He was asked to put into perspective what his season has been like.
"It's definitely kind of a lift off your shoulders," he said. "Like I said before, playoffs are all about team play and you've got to put that individual stuff aside and I think with the group of guys in here throughout the year, we count on each other to come up big."