Too fast? Kevin Harvick's crew chief explains how it's possible to be just that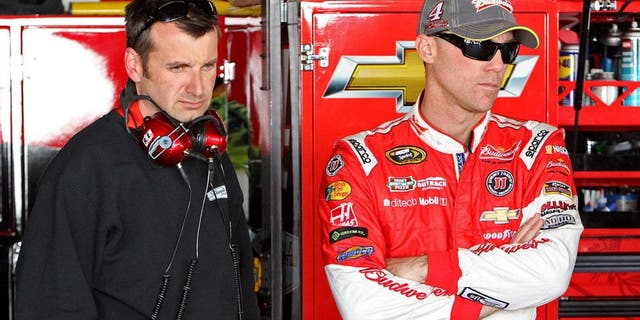 NEWYou can now listen to Fox News articles!
From the time Kevin Harvick, crew chief Rodney Childers and the rest of the No. 4 Stewart-Haas Racing team first tested at Charlotte Motor Speedway in late 2013, the combination has been remarkably fast.
So fast, in fact, that Childers wondered if the team was actually too fast early on last year and would have been better off sandbagging just a little.
Harvick won the 2014 NASCAR Sprint Cup Series championship in his first year with SHR, and made it to the championship round for a second year in a row, only to lose to Kyle Busch in the final race at Homestead-Miami Speedway
In an exclusive interview with FOXSports.com, Childers asked himself whether Harvick's phenomenal early season success -- he won or finished second in 10 of the first 14 races of 2015 -- actually hurt his title chances in the long run.
"You look back on last year, and it's almost like we went about it the wrong way," Childers told FOXSports.com. "With the Chase format the way it is, once you win a couple of races, you don't need to be showing everybody what you've got and making them work harder to catch up with you."
Which is exactly what happened.
"In all honesty, we were just too fast every week," said Childers. "It made the rest of the garage work a lot harder and spend a lot more money and basically let them catch up and getting their cars better. Looking back on it, you kind of need to chill out a little bit and save a little bit for the end of the year.
"But all in all, as a race team, we don't live that way. We want to go win every single week and show what we've got and do the best for our sponsors. It's a two-edged sword."
And Harvick said Childers set the bar high for the team with the goal each weekend "to go out and try to win practice, try to sit on the pole, lead laps and win the race."