Tony Stewart to drive A.J. Foyt's 1961 Indy 500-winning car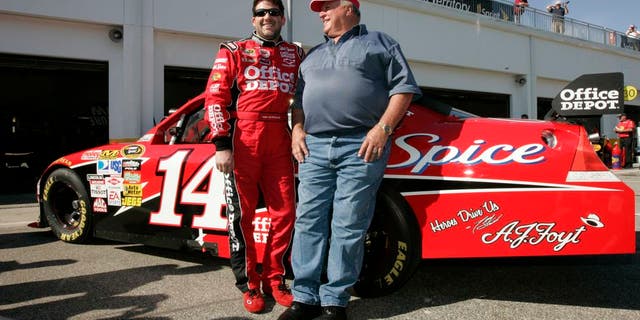 While the Indianapolis 500 buzz this year has understandably been all about Fernando Alonso coming over to race, another multiple-time champion from another series is going to be in the cockpit on race day at the 500.
Thats because three-time NASCAR champion Tony Stewart will do a parade lap before this years Indy 500 in A.J. Foyts Bowes Seal Fast Watson roadster that won the race in 1961.
The 1961 race was the first of Foyts four Indy 500 victories and Stewart, an Indiana native, grew up idolizing the rough-and-tumble Texas driver.
In an exclusive interview with FOXSports.com Wednesday, Stewart talked about what he expects the experience to be like.
Its pretty damn cool, Stewart told FOXSports.com. It definitely ranks in the top five (coolest things Ive done), thats for sure.
Stewart said he will be one of several drivers who will do a parade lap in Foyts vintage race cars prior to the start of the 500 on May 28.
Theyre going to have a bunch of his race cars do a parade lap, Stewart said. The concept of the parade lap is they dont want us going very fast, anyway. They want people to actually get their cameras and take pictures and stuff as were going by. So its not going to be a fast lap.
And Stewart said hes good with that.
Its perfectly fine with me, he said. Just to have the honor to drive the car he won his first Indy 500 in is enough for me.
Still, Stewart admitted he was curious what the big front-engined roadster would be like at speed.
I would really like to have a sense of what it feels like to race those cars, said Stewart. Its like you and I have talked about more than once: I feel like I was born 20 years too late. Maybe 30 years in that case.
Stewart said hell be focused on the job at hand.
All I care about is driving that car and trying to get sense of what it would feel like to drive that thing in 1961, he said.