Tony Stewart, Denny Hamlin pushed it to the limit and beyond last year at Sonoma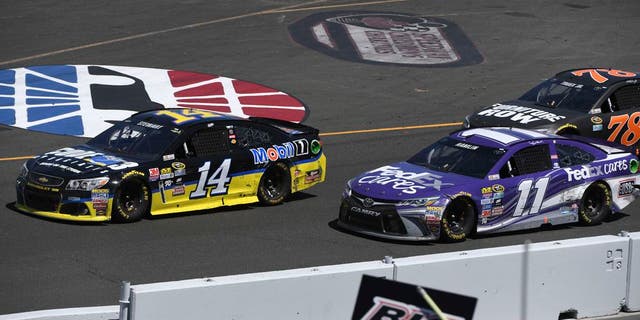 NEWYou can now listen to Fox News articles!
If you want to look for one of the greatest NASCAR road races of all time, you dont have to go very far. One year, to be exact.
Last year at Sonoma Raceway, Tony Stewart and Denny Hamlin waged a race for the ages in the Toyota/Save Mart 350 in what is now the Monster Energy NASCAR Cup Series.
Stewart, the three-time champion in his final season of NASCAR racing, got valuable track position in the race when his Stewart-Haas Racing crew chief Mike Bugarewicz short-pitted Stewart to get him out front.
But as the laps wound down at Sonoma, Hamlins Joe Gibbs Racing Toyota was on much fresher tires, which meant he could pressure Stewart relentlessly.
Finally, on the last lap, Stewart slipped in Turn 7, allowing Hamlin to pass him for what appeared to be the race-winning pass.
Stewart was not to be denied, though, showing a champions heart and a veterans cunning.
When the cars entered the hairpin at Turn 11, Hamlin ran wide and Stewart got underneath the JGR Toyota to re-take the lead. At the exit of the turn, Stewart shoved Hamlin up towards the wall and thwarted any chance of a Hamlin striking back.
I was shocked that the door was open like that, Stewart said. You can't crack the door open with me on the last corner of the last lap and expect me to not take it. I'll kick the door in or drive a bulldozer through it to keep it open.
Stewart won the race, the 49th victory of what surely will be a first-ballot NASCAR Hall of Fame career.
And with a berth in NASCARs playoffs at stake, Stewart made no apologies about his hard driving.
Knowing that that could be the difference between making the (playoffs) or not making the (playoffs), I wasn't going to be cordial in the exit of the corner and I roughed him up pretty good, Stewart said. If it has been a street fight, he'd have had two black eyes after that. I used him up pretty hard.
Afterward, Hamlin walked over to congratulate Stewart, who he raced with for three years at JGR before Stewart left to form SHR in 2009.
I think this is by far the best hes run all year, and hes in his final season, so his give-a-st factor is probably really low to be honest with you, Hamlin said of Stewart.
One of the parts I'll probably remember most about this race was before I got to Victory Lane and Denny leaning in there and the first thing he says is, I'm so damned proud of you, said Stewart. That meant the world to me. I mean, I told him right after that, and I said, You know I had to do that, and he goes, I know.