Tony Stewart breaks leg in sprint car crash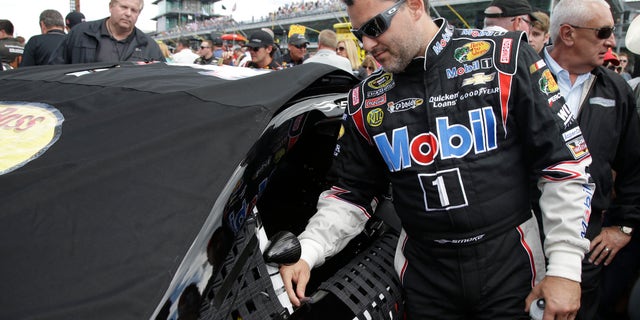 Oskaloosa, IA – Tony Stewart will not compete in this weekend's Sprint Cup Series race at Watkins Glen International after undergoing surgery for a broken leg.
Stewart, a three-time Sprint Cup champion, broke his right tibia and fibula when he was involved in a multi-car accident during a sprint car race on Monday night at Southern Iowa Speedway, a half-mile dirt track. He was alert and conscious when he was placed on a stretcher and taken by ambulance to a nearby hospital. He immediately underwent surgery.
According to the Des Moines Register, Stewart was leading the 30-lap feature race when a car spun around and collected Stewart and two other drivers with five laps to go. Stewart's winged sprint car flipped multiple times.
"It looked like he got into a lapped car," race winner Brian Brown told the Register in describing Stewart's accident. "When I got close, he was flipping cage down. I didn't really have time to watch and see what was going on."
Kyle Larson, a rookie in the Nationwide Series this year, also raced in the event. Larson finished second to Brown.
"I didn't see how it happened, I just saw cars going everywhere," Larson told the newspaper. "I had to duck through the infield and luckily I missed it."
Stewart has competed in several open-wheel events on short tracks this year. Last week, he avoided injury when he flipped several times during a wreck at Ohsweken Speedway, a dirt track in Ontario, Canada. On July 16, Stewart caused a crash that involved 15 drivers during a race at Canandaigua Motorsports Park in Brewerton, N.Y. Stewart took blame from the accident that sent 19-year-old Alysha Ruggles to the hospital with a compression fracture in her back.
This past weekend at Pocono Raceway, Stewart commented about his crash in Canada.
"You mortals have got to learn, you guys (members of the media) need to watch more sprint car videos and stuff," Stewart said. "It was not a big deal. It's starting to get annoying this week about that so that was just an average sprint car wreck. When they wreck they get upside down like that. That was not a big deal."
Stewart-Haas Racing did not immediately announce who will substitute for Stewart in the No. 14 Chevrolet at Watkins Glen, and it's not known if he will miss more races after this weekend. His No. 14 team canceled a scheduled test on Tuesday at Atlanta MotorSpeedway.
The injury likely will end any hopes of Stewart making this year's Chase for the Sprint Cup championship. With five races remaining before the Chase begins, he is 11th in the point standings, just five points behind 10th-place Greg Biffle. Stewart currently holds one of the two wild card positions due to his one win this season, which came on June 2 at Dover.
"Can't blame a guy for doing what he loves," Stewart's teammate, Ryan Newman, posted on his Twitter account. "Hoping my buddy Tony has a fast recovery."
Several drivers have tweeted get well messages to Stewart after learning of his injury.
"Such a sad situation with Tony. He was racing cars he loves. When he's healed, it will be like he never missed beat! Heal fast big brother." Danica Patrick tweeted. Patrick is driving the No. 10 car full-time for SHR in Sprint Cup this season.
Stewart has qualified for the Chase each season except 2006, the year after he won his second series title.