Tony Romo leads Dallas Cowboys on yet another comeback to beat St. Louis Rams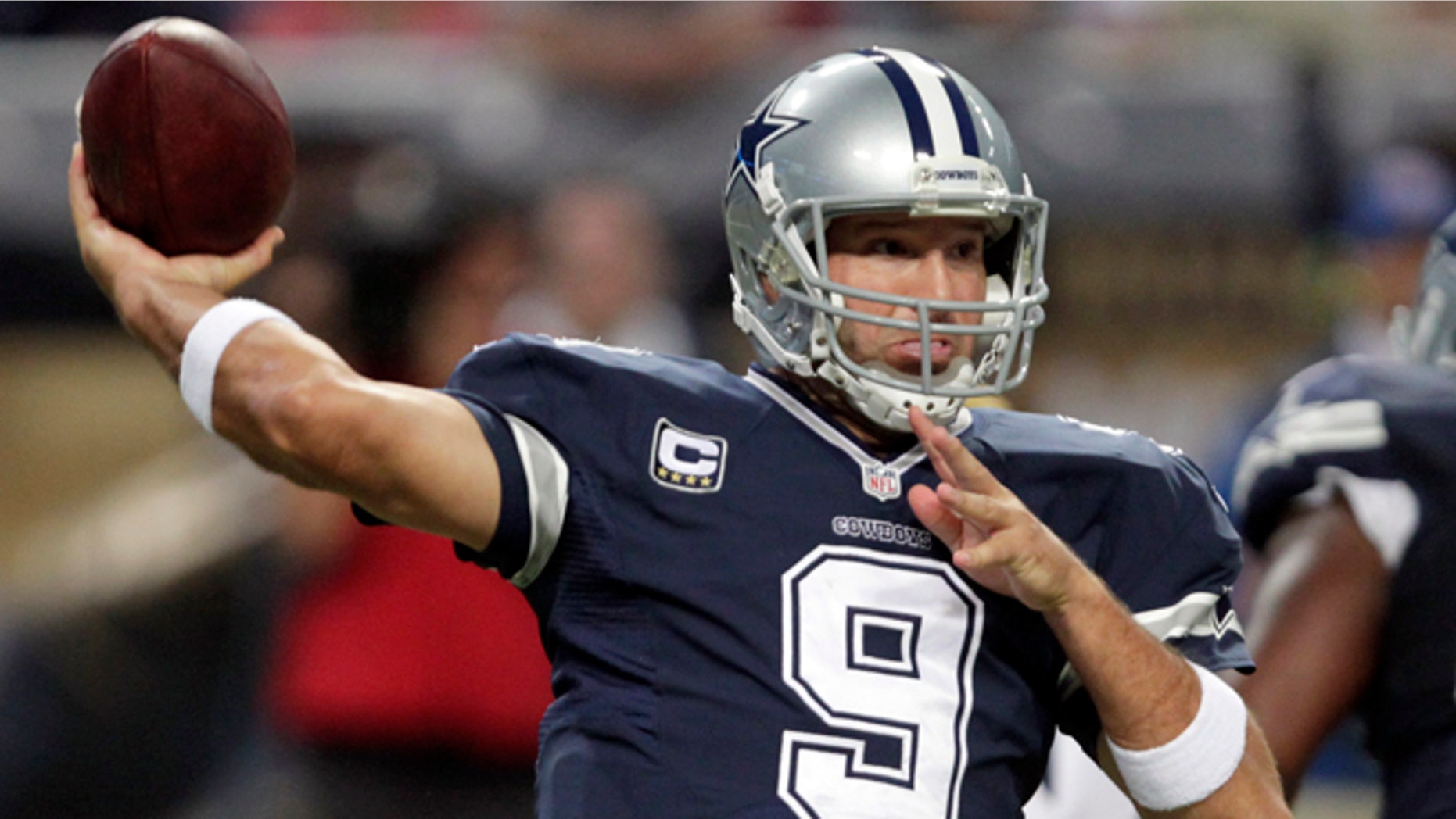 ST. LOUIS (AP) – Tony Romo stepped up with his arm and legs and the defense made some big plays, helping the Dallas Cowboys rally from a 21-0 deficit on the road against the St. Louis Rams to win 34-31 on Sunday.
It was the quarterback's 21st comeback victory in the fourth quarter or overtime, a franchise best. Romo and Dez Bryant capitalized on busted coverage on a 68-yard pitch and catch scoring toss.
Romo ran for 16 on third-and-13 on the go-ahead drive and then hit Terrance Williams for the go-ahead score.
His second-half play overshadowed a third costly interception of the year.
Dallas also rallied from a 21-point deficit in 1984 against New Orleans and 1999 against Washington, although both of those wins came in overtime.
The Cowboys didn't need their running back, DeMarco Murray, to be Superman in a comeback that matched the largest in franchise history.
For the fourth straight game, Murray lost a fumble. "Of course, I'm worried about them," he said after the game. "I'm very disappointed. I didn't play the way I should have played."
"We kept fighting and clawing and scratching," said Morris Claiborne, whose late interception clinched it. "When things went wrong, we didn't hang our heads."
Murray had 100 yards rushing on 24 carries, his 10th career 100-yard game, and a touchdown. It was nothing like the franchise-record 253 yards he rang up against St. Louis (1-2) in 2011 or the 175 yards he had last season.
Controlling Murray was a hollow achievement, much like in the opener when the Rams held Adrian Peterson down but got burned by Cordarrelle Patterson.
"He had a few good runs but for the most part we contained him," St. Louis defensive end Robert Quinn said. "For us to be up 21-0 and give that game away, we have no one to blame but ourselves."
The Cowboys (2-1) chipped away at the deficit and got contributions across the board. Bruce Carter made his first career interception and then ran it in for his first career TD.
Some reasons why the Cowboys are 2-1 for the fourth straight year and the Rams are reeling heading into their bye week:
FAST START: The Rams opened with an 80-yard scoring drive for the second straight week on Lance Kendricks' 1-yard catch. They were 5 for 5 on third down after Austin Davis converted third-and-13 with a 51-yard scoring pass to Brian Quick and were seemingly in command after Janoris Jenkins' 25-yard interception return with 6:06 to go in the first half.
MISTAKE PRONE: There were myriad reasons for a collapse that tied for the second-largest lead blown by the Rams.
— On Bryant's score, Jenkins bit on an early move and there was no safety help.
— Center Scott Wells lost a fumble when he didn't realize Austin Davis was in the shotgun, and Jared Cook dropped a touchdown pass that could have put the Rams ahead 27-20. Instead, they settled for a field goal.
— Zac Stacy was thrown for a 1-yard loss by Anthony Hitchens on a delay handoff on fourth-and-inches from the Dallas 15.
"They ran that play earlier in the game," Hitchens said. "It was me reading my keys and seeing it for the second time."
The Rams are 0-2 at home and were whipped 34-6 by Minnesota in the opener. Fisher said Davis played well, but that Shaun Hill would be the starter after the upcoming bye week.
MOMENTUM CHANGERS: Penalties and a turnover late in the first half helped the Cowboys close the gap.
Murray's 1-yard run came a play after rookie Lamarcus Joyner's interference call in the end zone. After Henry Melton recovered Wells' fumble, a roughing-the-passer call on Eugene Sims got Dallas closer for Dan Bailey's 29-yard field goal at the end of the first half.
MONEY TIME: Bailey set a Cowboys record, hitting a 40-yarder in the third quarter for his 28th in a row.
"Honestly, that was the furthest thing from my mind," Bailey said. "It was an exciting game. There were so many other things to think about."
Follow us on twitter.com/foxnewslatino
Like us at facebook.com/foxnewslatino