Tony Romo, Cowboys Dig Too Deep A Hole In First Half, Lose Season Opener To 49ers, 28-17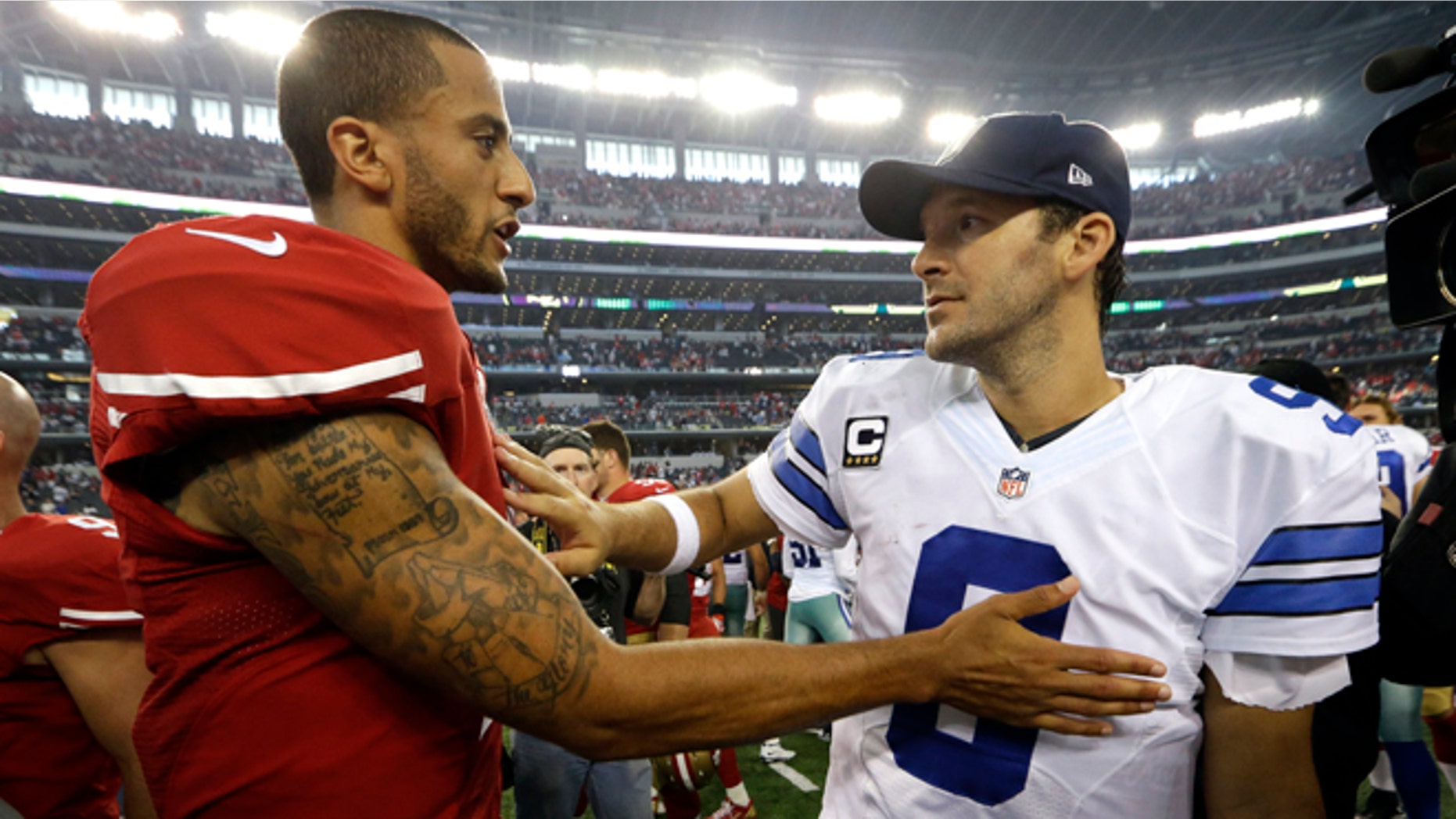 Early turnovers, including three interceptions of Tony Romo before halftime, doomed the Dallas Cowboys, who lost their season opener against the San Francisco 49ers, 28-17, on Sunday.
With the 49ers defense missing a couple of key players, it seemed like a good opportunity for the Cowboys offense to take advantage. But instead of 49ers quarterback, Colin Kaepernick – who was held out of some preseason action in order to maintain him healthy – it was Romo who looked rusty.
Romo looked every bit like a quarterback who has had two back surgeries in the last two offseasons, not a good start for a team trying to avoid tying a franchise record with a fifth straight year of missing the playoffs.
The 49ers scored on the second play after Chris Culliver picked up a loose ball stripped from DeMarco Murray and ran untouched 35 yards for a score. Then 49ers safety Eric Reid intercepted Romo – one of three picks by the 49ers before halftime – and returned it 48 yards to the Dallas 2, setting up Kaepernick's second scoring toss to Vernon Davis on the next play.
"I felt comfortable," said Romo, who threw for 281 yards and a late touchdown but had his first three-interception game since losing a winner-take-all finale against Washington in 2012. "Just couple poor decisions that I made tonight."
One of them was not throwing to a wide-open Dwayne Harris for what would have been an easy touchdown, instead forcing a pass to Jason Witten that linebacker Patrick Willis intercepted.
When Romo wasn't throwing interceptions, the Dallas offense was getting false-start penalties and using timeouts to avoid delay-of-game penalties. The 49ers built a 28-3 halftime lead and held on from there.
Part of the problem was the noise from large swaths of red-clad 49ers fans seeing their team for the first time in the regular season in the $1.2 billion home of the Cowboys. "I noticed that," Harbaugh said of the crowd. "Much appreciated. Means a lot."
It didn't take Kaepernick long to put his rough preseason behind him, leading the 49ers 80 yards in just three plays on their first possession. He stepped out of an ankle tackle by Jeremy Mincey and threw 29 yards on the run to Davis, who juggled the ball as the crossed the goal line before holding on for a 14-3 lead.
The 49ers also had an efficient drive in their 2-minute offense to finish the first half, with Kaepernick throwing for 39 yards leading to Carlos Hyde's 4-yard scoring run. Kaepernick was 16 of 23 for 201 yards without an interception.
On the defensive side, for all the talk about Aldon Smith's nine-game suspension over off-the-field issues and fellow linebacker NaVorro Bowman being out until midseason because of a knee injury, the San Francisco defense looked a lot like the units that helped carry the 49ers to three straight NFC championship games.
"Everyone that's been talking about our defense, about how we won't be as good and what not, I don't get caught up in all that," said Willis. "The only thing that matters to me is how we perform on the field on game day with whoever is on the field."
Defensive tackle Ray McDonald was among those on the field a week after he was arrested in a domestic violence case, which came within days of Commissioner Roger Goodell announcing stiffer penalties in such instances. The 49ers have said they believe the facts support allowing McDonald to play while the legal process plays out.
All this after the team waited all summer to find out how long Smith would be banned following his most recent run-in with the law — an arrest at Los Angeles International Airport for being uncooperative with TSA agents and telling them he had a bomb.
"There's been a lot of rhetoric," said coach Jim Harbaugh, who improved to 4-0 in season openers. "This game was about steel in the spine. When it comes to 49er players, that's where they excel."
Based on reporting by The Associated Press.
Follow us on twitter.com/foxnewslatino
Like us at facebook.com/foxnewslatino