Tony Romo and Dallas Cowboys Face Disappointment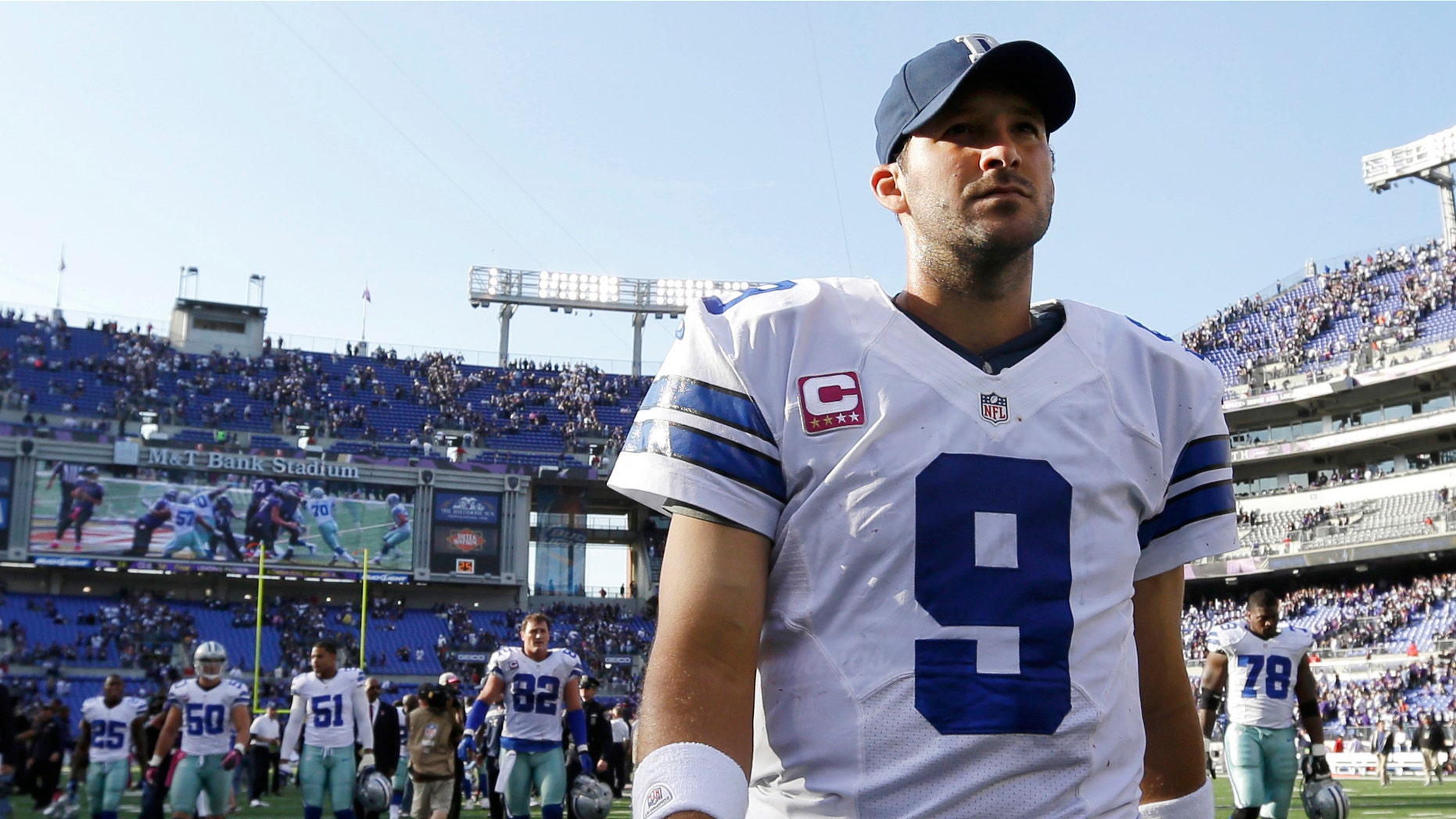 ATLANTA – Tony Romo had to face his boss, Dallas Cowboys owner Jerry Jones, after his team dropped another close game on Sunday.
Looking despondent in the team's locker room, Jones was far from speechless in voicing his disappointment with the Cowboys.
As the team fell 19-13 to the Atlanta Falcons, suffering their fourth loss in five games, Jones was regrettably in familiar territory.
Jones never imagined in training camp that Dallas would be 3-5, but with Atlanta holding the ball for all but 17 seconds of the final 5:21, the Cowboys ran out of time.
"Very disappointed that we didn't have a chance and play better in the second half," Jones said.
"A play here, a play there might have made a difference. They're 8-0 because they're a good team. They play tough at home."
Cowboy's quarterback Tony Romo was well aware his performance was not up to par: "We had some key third down plays that we couldn't convert."
"We had some drops. We had a short-yardage play that we had an opportunity to get. That stuff comes back to haunt you. You need those plays."
Romo completed 25 of 35 passes for 321 yards, but the Cowboys were held to 65 yards rushing, including 39 yards on nine carries by Felix Jones. DeMarco Murray missed his third straight game with a sprained right foot.
After Ogletree's touchdown, Dallas burned all of its timeouts as Ryan kept the Falcons' offense on the field in the crucial time-consuming drive. Ryan passed to Jacquizz Rodgers for 31 yards and 11 yards on third-down plays. A defensive holding call against cornerback Orlando Scandrick on another third down prolonged the possession.
Finally, the Cowboys stopped Turner on a third-down run at the Dallas 14.
Romo never attempted a deep pass on the final drive, but he had only 17 seconds to cover 80 yards. He found Jason Witten for passes of 7 and 11 yards, leaving 9 seconds. He passed to Felix Jones for 8 yards, leaving time for one play from the Cowboys 40.
Romo scrambled before passing to Jones, who was dropped near the Atlanta 22 to end the game.
"I think any time you're in that situation you obviously want to get the ball back with a chance, and it's tough," Romo said. "That's why they're a good football team. They're tough to beat at home. They proved it when they were able to run the clock out at the end."
Ryan was 24 for 34. Roddy White had seven catches for 118 yards and passed Terance Mathis for the most receptions in Falcons history. Julio Jones had five catches for 129 yards.
Witten finished with seven catches for 51 yards and now has 754 receptions for his career to surpass Michael Irvin's franchise record of 750.
"Nobody's going to give up," Witten said. "We're to stay working together and believe in each other, but obviously there's a tremendous amount of urgency right now for our football team."
Miles Austin led the Cowboys with seven catches for 76 yards, but with the score still 6-6 late in the third, he dropped a third-down pass that would've given Dallas a new set down of downs near the 50.
For three quarters, it was a kicking contest — and a pretty shaky one, too.
Bryant kicked field goals of 45 and 46 yards in the second quarter for Atlanta's only points before Turner's score. Bryant also missed from 43 and 37 yards, wide right each time.
Dan Bailey's field goals from 23 and 32 yards were the Cowboys' only points in the first half. He missed from 54 yards.
Ryan was sacked three times and faced constant pressure, but his 48-yard pass to Jones set up Bryant's 36-yard field goal in the fourth quarter, pushing the lead to 16-6.
Dallas defensive coordinator Rob Ryan blamed himself and wished he hadn't called a zone blitz on Turner's 43-yard run late in the third that set up his TD run early in the fourth.
"I didn't hold up my end, so it's all on me," Rob Ryan said. "It's damn unfortunate right there, but it's the truth."
The Cowboys struggled most of the night to cover both White and Julio Jones, one of the NFL's top receiving tandems.
"I really can't think of one (defensive back) that didn't have a missed tackle for the game," safety Danny McCray said. "That's just something that we need to go back and work on, look at the film and work on so it doesn't happen again. Probably just bad technique. Getting lazy, getting complacent, thinking you're just going to run up and make the tackle and it's not happening for you."
Jones insisted that Jason Garrett, whose record as coach dropped to 11-13, is in no danger of losing his job even though Dallas faces a tough task next week when it visits NFC East rival Philadelphia.
"I have a lot of faith in Jason," Jones said. "Jason's future is ahead of him. I know how hard he works. I like his philosophy, so I've got a lot of confidence, a lot of faith. One of the brightest spots I see is our head coaching and our coaching in the future."
Based on reporting by the Associated Press.
Follow us on twitter.com/foxnewslatino
Like us at facebook.com/foxnewslatino