Tomlin, Steelers searching for answers as roller-coaster season reaches crossroads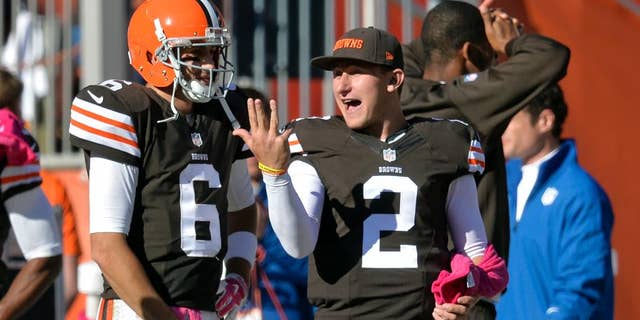 PITTSBURGH – Mike Tomlin doesn't have the patience or the roster depth to make sweeping changes. Besides, the Pittsburgh Steelers coach isn't sure they're necessary.
Last Tomlin checked, his team was 3-3 not 0-6, even if it felt that way after Cleveland crushed the Steelers by three touchdowns last Sunday, Pittsburgh's worst loss to its nearest rival in a quarter-century.
"We are a .500 football team," Tomlin said. "That's not something we desire to be."
Yet, it beats a bleaker alternative. Pittsburgh has been a maddening mixed bag during the first six weeks, flipping frequently between exciting and erratic, often from possession to possession. The same team that trailed 31-3 in the fourth quarter Sunday dominated the first quarter and had a chance to take a two-score lead before fizzling.
"We got to put a more positive, consistent performance on the grass than we're putting right now," Tomlin said.
That means there may be some new faces in the huddle when the Steelers begin a pivotal three-game homestand Monday against Houston (3-3).
Rookie nose tackle Daniel McCullers will likely be active for the first time with starter Steve McLendon out with a shoulder injury. And 6-foot-4 rookie wide receiver Martavis Bryant may finally get a chance to provide quarterback Ben Roethlisberger with the big red-zone target the Steelers have lacked for the better part of a decade.
It's not the way Tomlin would like to get his first-year players into the mix, but borne out of necessity because the veterans are not producing regularly.
Offensive coordinator Todd Haley defended his play-calling in the red zone in a loss to Tampa Bay and a win over Jacksonville, a stretch in which the Steelers passed the ball on 18 of 19 snaps taken inside the opponent's 20. He leaned heavily on the run against the Browns, including three straight from the Cleveland 7 in the first quarter. The drive ended the same way many others have: with Shaun Suisham trotting on for a field goal attempt.
At least Suisham had a chance to salvage some points. He wasn't so fortunate the next time the Steelers took a snap deep in Browns' territory, when a third-and-3 from the Cleveland 17 quickly turned into disaster.
Markus Wheaton couldn't hold on to a Ben Roethlisberger pass that would have given Pittsburgh a first-and-goal. Holder Brad Wing botched the snap on Suisham's ensuing field goal attempt, and was driven into the ground.
Five plays later, the Browns were in front and the Steelers were left wondering how a team that is sixth in total offense is 23rd in scoring — and sinking fast.
"What I'm looking for is touchdowns," Tomlin said. "I'll be up here every week analyzing why we ran or why we passed or why we didn't run or why we didn't pass if we continue to kick field goals or attempt to kick field goals. The bottom line is we have to get the ball in the end zone in a more consistent manner when we're on the short field."
Enter Bryant — maybe. Pittsburgh took the raw but talented receiver in the fourth round, hoping he would provide the Steelers with a matchup advantage near the goal line they've missed since Plaxico Burress bolted for the New York Giants in 2005.
Bryant, however, has turned into a bit of a project. Unlike Justin Brown and Darrius Heyward-Bey — both of whom rose above Bryant on the depth chart — he is not a factor on special teams.
Tomlin appears willing to trade a blocker in the kick-return game for a receiver capable of boxing out a defender in tight space, saying "we'll explore the possibility of utilizing him this week."
While the Steelers are hardly out of it in the suddenly wide-open AFC North — where all four teams are separated by a game — they're the only team with a negative point differential. When they're on, they're good enough to win, if not exactly dominate. When they're off, they're barely competitive.
They have three weeks to prove themselves.
"I think every week (has) urgency now," guard David DeCastro said. "They all count as the same but at this point we're tired of winning one (and) losing one. We have to start stacking them."
___
AP NFL website: www.pro32.ap.org and http://twitter.com/AP_NFL