Tomlin has another solid start, Indians beat Yankees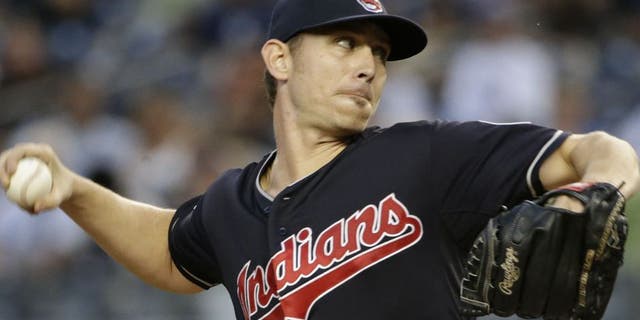 NEWYou can now listen to Fox News articles!
NEW YORK (AP) -- Josh Tomlin had his second impressive start since returning from shoulder surgery, Cody Allen worked out of his own jam in the ninth inning Thursday night and the Cleveland Indians held on for a 3-2 victory over the New York Yankees.
Tomlin only allowed Alex Rodriguez's 680th career home run leading off the fourth and a double to Chase Headley in seven deliberate innings. The right-hander has been touched for just three runs and seven hits in 13 1-3 innings since coming back from his second major operation since 2012.
Allen took over with the score 3-1 and gave up a leadoff single to A-Rod, who surprised most everyone in the ballpark and stole second.
Several players took exception with umpire Dan Iassogna's strike zone throughout the night, right into the ninth: After Brian McCann was called out on strikes and had a brief conversation with Iassogna, manager Joe Girardi raced from the dugout and was instantly ejected. He proceeded to dig a line in the dirt near home plate and yell at Iassogna.
Carlos Beltran singled in a run and rookie Greg Bird walked. But Headley grounded to first for the second out and Allen got Didi Gregorius to fly out to end it for his 24th save.
Lonnie Chisenhall hit an RBI double, and Michael Brantley -- still limited to designated hitter because of a sore shoulder -- and Jose Ramirez had RBI singles off Ivan Nova (5-5).
Losers of four of five coming in, the Indians got help from their new-look outfield of converted infielders Ramirez and Chisenhall and newcomer Abraham Almonte. They took two of three from the AL East leaders last week in Cleveland, and won the opener of this four-game series.
Almonte made a long running, leaping catch at the wall in right-center in the sixth on a drive by Brett Gardner. Chisenhall made a diving catch of Carlos Beltran's sinking liner to open the seventh.
Working as slowly as Tomlin, Nova got in trouble twice because of walks. Chisenhall hit a hot shot to right-center to score Carlos Santana from first in the second, and Ramirez drove in Almonte after the center fielder walked in the fourth.
Nova had won four of his previous five starts, but he failed to get to the sixth Thursday, needing 94 pitches for five innings.