Tomas, Peralta power D-backs to another rout of Dodgers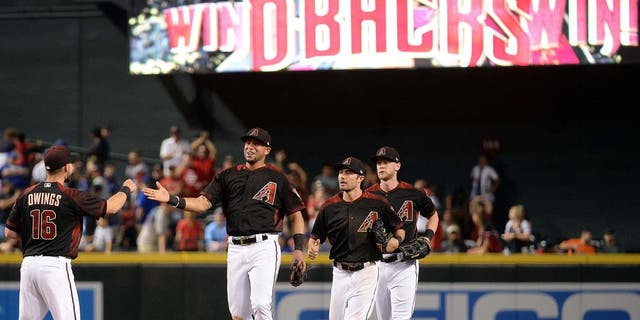 PHOENIX -- David Peralta's base hit to right-center field in the eighth inning, with his team already up by four runs, could have been a routine single. Instead, Peralta decided to go hard for second base.
He made it safely for his fourth double of the game, a Diamondbacks record, and Arizona rolled to an 11-5 win over the Los Angeles Dodgers on Saturday night.
"That is exactly who we are as a ballclub," manager Torey Lovullo said. "That described what the Arizona Diamondbacks are all about. We believe in hard work. We believe in taking advantage of the moment."
Peralta had no idea he'd set a franchise mark.
"It's just the way that I play. I like to play hard for the team," Peralta said. "We're a new team, we're a big family, we're having a good time."
Yasmany Tomas homered twice, and Chris Herrmann and Jake Lamb each hit a two-run homer for Arizona, which feasted on Dodgers pitching for the second straight night. Peralta scored three times and Tomas drove in his third run by drawing a bases-loaded walk as part of a three-run seventh inning.
Arizona improved to 8-1 at home and 12-7 overall, with wins in five of its last seven games. The Diamondbacks' home record is the best after nine games in club history.
Kike Hernandez hit a leadoff home run for the Dodgers (8-10), who have lost five of six.
Herrmann homered off starter Kenta Maeda (1-2) in the fourth, giving the Diamondbacks a 5-2 lead on the way to their fourth straight win over Los Angeles this month.
"I threw a lot of pitches at the heart of the plate and a lot of hitters took advantage of that," Maeda said through a translator. "My wish was to go deep in the game knowing the bullpen was taxed. I just didn't execute at all."
Robbie Ray (2-0) labored through 5 1/3 innings but got enough run support to win. J.J. Hoover struck out Justin Turner on a full-count pitch with the bases loaded to preserve a 6-5 lead and end Los Angeles' three-run rally in the sixth.
The Diamondbacks scored three times in the seventh off reliever Chris Hatcher, with Chris Owings delivering a two-run single.
Maeda has not lasted more than five innings in any of his four starts. He pitched five innings in this one and was tagged for six runs on nine hits.
Dodgers manager Dave Roberts indicated a roster decision involving Maeda, whose ERA is up to 8.05, could be made soon.
"We are going to talk through some things and see what is best for Kenta," Roberts said.
Arizona hit back-to-back home runs in the first inning to take a 3-1 lead. Lamb hit his two-run shot, and Tomas followed with an opposite-field line drive to right.
Tomas' second home run went to left field in the fifth, giving him four this season.
The Diamondbacks entered the game with a .320 batting average at home. They are averaging a major league-best eight runs per game at Chase Field.
"As simple as it is, it's fun playing baseball," Lamb said. "If it's not me, it's the next guy. If it's not him, it's the guy after that."
BAT MEN
The Diamondbacks' 24 runs the past two days were the most scored in back-to-back games against the Dodgers since Arizona scored 26 in May 2000 at Chase Field.
MAKING A DAY OF IT
After Dodgers pitcher Brandon McCarthy makes his scheduled start Sunday against Arizona, he'll zip over to nearby Scottsdale to see Phoenix Rising FC play a night game. McCarthy has a minority ownership stake in the soccer team and it's a big night for the second-division club, which welcomes former international and English Premier League star Didier Drogba as player-owner for his first game. McCarthy will later join the Dodgers in San Francisco.
TRAINER'S ROOM
Arizona pitchers Jake Barrett and Steve Hathaway, both on the 10-day disabled list, will throw in extended spring training Tuesday. Rubby De La Rosa is scheduled for a Monday outing. … OF Gregor Blanco played seven innings and got five rehab at-bats as he moves toward a return from an oblique injury.
UP NEXT
Dodgers: McCarthy (2-0, 2.12 ERA) faces his former team for the second time this season.
Diamondbacks: RHP Shelby Miller (2-1, 3.50) can match his win total from 2016 with a victory, but he's 1-3 with a 6.95 career ERA against the Dodgers.