Tom Lawlor to return, sans costume, at UFC on FOX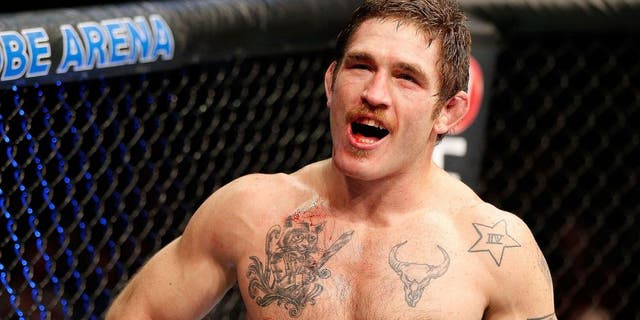 CHICAGO -- Over the years, Tom Lawlor has dressed up as and paid homage to a wide variety of characters during weigh-ins and fight walk-outs. There's also been nothing subtle about those impersonations.
There was, of course, martial arts charlatan and movie actor Steven Seagal, UFC legend Dan Severn, UFC 1 pioneer Art Jimmerson, the great Genki Sudo, and even (yes, really) singer/actor Olivia Newton John. Lawlor has used his creative sense of style to come up with uniquely hilarious tribute costumes for just about his entire career.
That stops this Saturday at UFC on FOX. "Don't expect anything on this one," he said Thursday afternoon.
Lawlor hasn't competed in over two years because of injuries. When he walks to the stage for weigh-ins Friday, or to the cage on Saturday, he'll be wearing Reebok gear like every other fighter on the card.
The UFC's new uniform deal with the international brand went into effect earlier this month and would seem to preclude Lawlor doing some fun and goofy stuff.
The returning fighter didn't complain about the changes, and insisted that no one has "had a talk" with him about his entrance gear. His taste is just a bit too outlandish to be outfitted by a large corporate brand, and he understands that.
"I can't. I mean, it's that I can't do anything [but] I can't dress up," he explained.
"Reebok doesn't make a bunch of different outfits for me to wear. They don't make a Paul Varlens outfit to throw on. I can't throw on a singlet and throw on lifts that will make me six foot, seven. They don't make a Reebok Don Frye mustache, so I'm kind of stuck just being myself."
With that, he let out an exaggerated sigh. "The fan base may not be too [happy with that]."
More than likely, Lawlor's fans will simply be happy to see him compete in the Octagon, again. The fighter has always stood out with his fighting, in addition to his sense of humor, after all.
He's only really lost either controversial decisions, or lost to some of the best in the world. He'll continue that pattern this weekend as he faces top-15 light heavyweight Gian Villante.
Lawlor told FOX Sports the move up from middleweight to light heavyweight is a permanent one, and we've heard that he's feeling good and is confident ahead of the big challenge on Saturday. We couldn't help but wonder out loud, however, why Lawlor felt compelled to do his dance routines and costume productions in the past, and if not being able to do one this week may affect him, mentally.
Fighters are, after all, creatures of habit. "It's tough to tell," he admitted.
"I don't know if I did it as a way to distract myself or not. There have been fights in the past...[like when I fight Patrick Cote] there was no music. I just rushed out to the cage, and I went out there and won that fight. The last fight I had there was no walk-out for that just because I wasn't in the mood for it. It might be the case where me being more calm is beneficial, I don't really know. Now the fact that I can't really do a crazy walk-out, we'll find out for sure if it's beneficial or not."