Tom Koehler's slump continues as Marlins fall to Nationals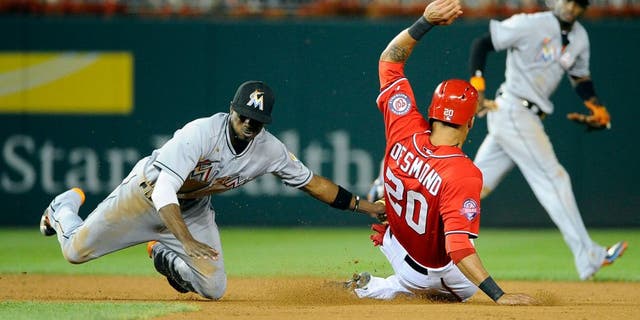 NEWYou can now listen to Fox News articles!
WASHINGTON (AP) -- Clint Robinson and Ian Desmond hit back-to-back home runs, Jordan Zimmermann pitched seven innings and the Washington Nationals beat the Miami Marlins 5-1 on Saturday night.
The Nationals pulled within 5 1-2 games of first-place New York in the NL East. The Mets dropped their second straight against the Boston Red Sox, 3-1. Washington gained ground on New York for the first time since Aug. 19.
Ryan Zimmerman also homered for the Nationals.
Zimmermann (11-8) won his third straight start. He gave up a run and seven hits, while striking out four and walking one. He allowed baserunners in six of seven innings.
Justin Bour ended Zimmermann's shutout bid with his 12th homer leading off the seventh.
Miami starter Tom Koehler (8-13) is still seeking his first win since July 23. He allowed five runs and nine hits over six innings in losing his seventh straight.
Koehler did have two hits.
Robinson and Desmond connected off Koehler in the sixth. Robinson sliced a two-run shot into the Nationals' bullpen and Desmond, who went 2 for 3, followed with a blast to center, making it 5-0.
It was Desmond's 17th home run, 10th since July 20.
The Marlins had at least one baserunner in each of the first five innings against Zimmermann, but failed to get any of them home.
Zimmerman led off the second with his 12th home run.. He has 24 RBIs in his last 25 games
Washington made it 2-0 when Anthony Rendon's two-out single scored Danny Espinosa in the third.
TRAINER'S ROOM
Marlins: LHP Carter Capps (elbow strain) will throw a bullpen session early next week, manager Dan Jennings said. . OF Christian Yelich (bruised right knee) missed his third straight game.
Nationals: OF Michael Taylor (bruised right knee) and INF Yunel Escobar (right hand) were both held out of the starting lineup for a second straight game. Manager Matt Williams said Taylor was available off the bench, and that Escobar had done "some hitting" earlier Saturday. Taylor grounded out as a pinch-hitter in the eighth.
UP NEXT
Miami LHP Brad Hand (4-3, 4.23 ERA) looks for his first career win against the Nationals in Sunday's series finale. He's 0-5 with a 7.71 ERA versus Washington in nine games, including seven starts. Nationals RHP Stephen Strasburg is 3-1 with a 1.73 ERA, 32 strikeouts and three walks since returning from the DL on Aug. 8.