Tom Kelly borrows Ron Gardenhire's pants for All-Star Futures game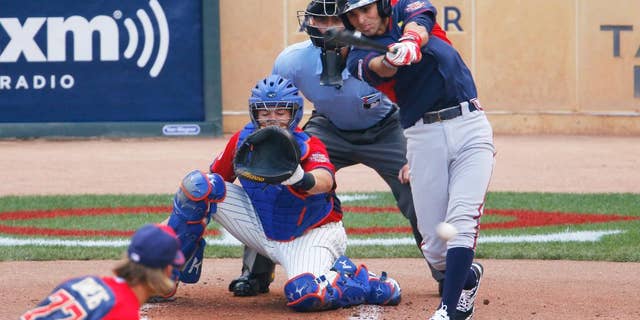 MINNEAPOLIS – Tom Kelly found his jersey ready when he arrived at Target Field on Sunday to manage the U.S. team in the All-Star Futures game but was missing baseball pants.
Kelly, who managed the Twins to a pair of World Series titles during his time in the Minnesota dugout from 1986-01, borrowed a pair from current Twins manager Ron Gardenhire.
"They're a little loose," he joked, a reference to his successor. "No, they're not. They fit fine."
While borrowing Gardenhire's office for the day, Kelly helped himself to a cigar from Gardenhire's humidor.
___
HOOSIER FAVORITES? The U.S. team featured four natives of Indiana: catchers Justin O'Conner (Tampa Bay Rays, high Class A) and Kevin Plawecki (New York Mets, Triple-A), second baseman Micah Johnson (Chicago White Sox, Triple-A) and right-handed pitcher Alex Meyer (Minnesota Twins, Triple-A). That tied for the largest representation from any state with California, one more than both Florida and Texas.
"You would've thought if this was a basketball event, that might make a little more sense," Meyer said. "But being here with the baseball, it speaks for Indiana baseball, too. It's getting a lot better, so it's a good thing."
___
WARMING UP: Rod Carew, an All-Star in all 12 of his seasons with the Minnesota Twins, will throw out the ceremonial first pitch before Tuesday night's All-Star game.
Carew was an All-Star in the first 18 seasons of a 19-year big league career that started in 1967 and ended with the California Angels in 1985.
Jack Morris, Paul Molitor and Dave Winfield — all St. Paul natives — will throw out ceremonial pitches before Monday night's Home Run Derby along with current Twins first baseman Joe Mauer, a six-time All-Star who is on the disabled list.