Tom Coughlin says Odell Beckham Jr. 'is a distraction,' wants to help him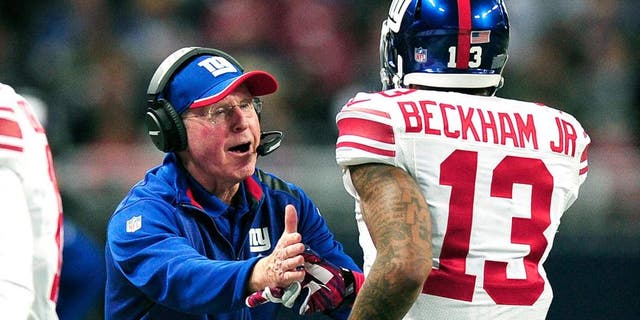 New York Giants receiver Odell Beckham Jr. has become one of the focal points of the NFL season thus far, and it's not because he's making spectacular one-handed catches or posting 300-yard games.
It's because of his antics both on the field and on the sideline.
Beckham has lost his cool in back-to-back weeks and created issues for the Giants lately, leading to coach Ben McAdoo saying he needs to be less of a distraction. Quarterback Eli Manning also called him out, saying he's made himself a target for officials and that it's his own fault.
Now, his former coach is weighing in. Tom Coughlin was at the helm for the first two seasons of Beckham's career, so he's familiar with the star that is OBJ. However, he agrees that Beckham has become a distraction. Via CBS Sports Network:
"For his own good [he needs to learn to channel his passion. And I would love to try to help him in this regard because I think so highly of him. ... He is a distraction. If you watch a game, the camera is on him the whole time."
Coughlin is no longer a coach with the Giants, but that's not to say he can't help. He's still involved with the league, serving as a Senior Advisor to Football Operations. He's been around the game of football for decades, so he's seen pretty much everything.
Beckham may have become a polarizing player, but he remains one of the hardest workers in the league.
"He really believes that he is at his best at the top of his passion," Coughlin said. "He is so talented. I don't think there's anything the kid can't do. He is a good kid. He is a team guy in the team room. It's just when he gets on the field, there's only one way he knows how to play."
There's no question Beckham needs assistance right now, particularly after saying he's "not having fun anymore" playing football. That's especially concerning for a player who is one of the best in the game today, and it proves he needs to get his mind right.