Tom Cable Out as Coach of Oakland Raiders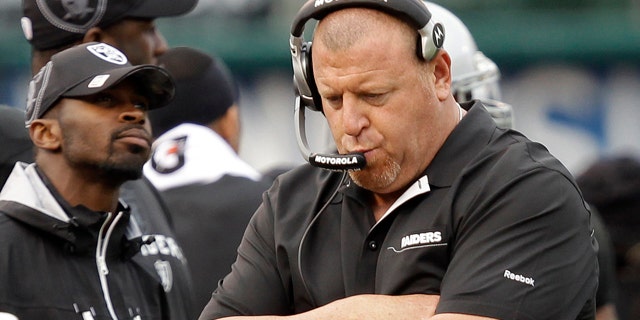 ALAMEDA, Calif. – The Oakland Raiders informed coach Tom Cable on Tuesday that they will not bring him back as coach next season even though he led them to their best record in eight years this season.
The Raiders announced their decision not to exercise a two-year, $5 million option on Cable's contract for 2011 and '12, two days after wrapping up an 8-8 season that gave Oakland its first non-losing record since winning the 2002 AFC championship.
"Coach Cable was informed the club would not be exercising its option for the 2011 season, and that he's free to seek employment elsewhere," his agent, Don Yee, said in an e-mail to The Associated Press. "Teams already have shown interest in Tom."
The Raiders now begin their search for their sixth coach since Jon Gruden left for Tampa Bay following the 2001 season. Cable lasted longer than any of the previous five, with a 17-27 record since being promoted from offensive line coach to interim head coach early in the 2008 season after Lane Kiffin was fired.
Cable had wide support from his players, who credited him with helping make the team a contender in the AFC West this season after a run of seven straight years of at least 11 losses.
But that was not enough to persuade owner Al Davis to bring him back for a third full season. The Raiders could have waited two weeks to make this decision but acted quickly.
The move comes the same day the Raiders granted the San Francisco 49ers permission to interview offensive coordinator Hue Jackson for their vacant head coaching job.
Davis brought Jackson in after last season to take over the play-calling duties from Cable. Led by a breakout season from running back Darren McFadden and big plays from rookie receiver Jacoby Ford, the Raiders finished sixth in the league in scoring with 410 points. That was the sixth-most points scored in a season in franchise history and more than doubled last year's scoring output.
Jackson will likely be a leading contender for the job. Raiders senior executive John Herrera says the team has not talked to any candidates yet.
The Raiders also could have interest in Stanford coach Jim Harbaugh, who was a quarterbacks coach in Oakland from 2002-03 and is close with Davis. Harbaugh is also being sought by the San Francisco 49ers, among other NFL teams.
Cable has had a tenuous hold on the job ever since getting it when Kiffin was fired four games into the 2008 season. The Raiders took a month after that season before deciding to give Cable a two-year contract and then left the coach in limbo for weeks after last season.
The 2009 season was marred by an investigation into whether he assaulted assistant Randy Hanson and allegations of a history of violence toward women.
The Raiders made big strides to improve under Cable but fell short of making the postseason for an eighth straight season. Oakland became the first team since the 1970 merger to win all of its division games and not make the playoffs.
The Raiders went just 2-8 outside the AFC West this season, with five of those losses coming to teams with losing records.
This season was marked by indecision at quarterback. The Raiders acquired Jason Campbell in the offseason from Washington to replace draft bust JaMarcus Russell. Davis compared Campbell in training camp to two-time Super Bowl winner Jim Plunkett, but Campbell was benched after just six quarters.
Campbell got the job back when Bruce Gradkowski injured his shoulder and eventually won three straight games to put the Raiders in first place in November. But he was benched again after a blowout loss at Pittsburgh.
The Raiders lost the following week at home to Miami when Gradkowski re-injured his shoulder. Campbell started the final four games.
(This version CORRECTS Corrects Gruden's departure to after 2001 season, adds comment from Raiders saying they haven't talked to any candidates yet)