Tom Brady blasts WEEI, threatens to 'evaluate' future at station after personality calls daughter a 'pissant'
NFL star Tom Brady blasted a Boston radio station and abruptly cut short an interview Monday after a station personality made a disparaging remark about Brady's 5-year-old daughter.
Brady, the New England Patriots quarterback who's headed to his eighth Super Bowl on Sunday, said he was re-evaluating his association with local sports radio station WEEI after Alex Reimer on Friday called Brady's daughter "an annoying little pissant." Reimer's remark Thursday came during a discussion of a documentary series about Brady, "Tom vs. Time."
The station announced on-air Monday that Reimer had been suspended for the entire Super Bowl week. Reimer writes for WEEI.com and "is a frequent member of the Kirk & Callahan [morning show] casting couch," according to his WEEI bio page.
Brady's fans -- and the station itself -- quickly condemned the remark, but it wasn't fully addressed on-air until Monday morning.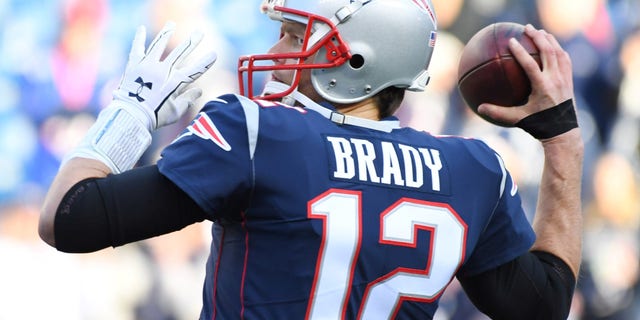 When Brady joined "Kirk & Callahan" for his weekly on-air segment, he cut his interview short, saying he was disappointed to hear the "pissant" remark.
"I've tried to come on this show for many years and showed you guys a lot of respect," Brady said, according to ESPN. "I've always tried and come on and do a good job for you guys. It's very disappointing when you hear [the comments about my daughter], certainly. My daughter, or any child, certainly don't deserve that."
He added: "I'll obviously evaluate whether I want to come on this show again, so I really don't have much to say this morning."
Brady recently signed a new contract with the show agreeing to the appearances. A host on Monday morning's show said the station was "scrambling" to address the situation.
Entercom, WEEI's parent company, released a statement late Monday saying they were "disappointed and embarrassed" by Reimer's comments.
"His remarks were utterly indefensible and mean-spirited commentary directed in any way at children is wholly inappropriate," read the statement, which added that Reimer had been suspended from all WEEI platforms "indefinitely."
Entercom's statement praised Brady, who the company said had treated WEEI "with the utmost professionalism and respect."
"We have communicated our course of action to the Patriots and Tom Brady," Entercom's statement concluded, "and they are in support of our disciplinary response."