Toews searching for an offensive spark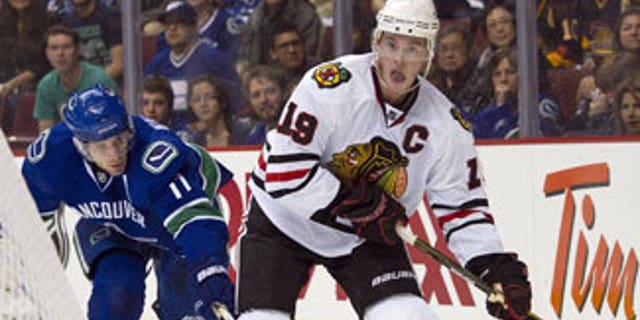 VANCOUVER, B.C. -- Jonathan Toews insists he's not frustrated, that he won't let himself go to a place where making excuses in the media is acceptable.
Nevertheless, Chicago's captain could use a pick-me-up from his buddies so he doesn't have to worry about a line of questioning that for so long has been reserved for the other guys, not for him.
Toews has been held off the scoresheet in the first two games against the Vancouver Canucks and has just a single point in his last nine games. Going back to last season, he hasn't scored a goal in 10 straight postseason games -- but at least last June he was blanketed in hardware as he accepted both the Stanley Cup and the Conn Smythe Trophy from NHL Commissioner Gary Bettman.
If things keep going the way they have been, Toews won't get anywhere close to a trophy this spring. Without anything from their captain, the Blackhawks are in an 0-2 hole against the Canucks in the Western Conference Quarterfinals as the series shifts to Chicago for Game 3 on Sunday.
"I'm not going to get into any mental category where I feel it's not going my way and it's not going in," Toews said. "It's the playoffs, whether you're getting bounces or not you have to keep working and not cry about it. You've got to find a way."
He's working. He's trying. It's just not happening for him.
A perfect example came just two minutes into Friday's 4-3 loss at Rogers Arena. Toews had a breakaway against Vancouver goalie Roberto Luongo, a huge opportunity to give his team the early lead and quiet the 18,860 towel-waving Canuck-heads inside the building.
He got in close, but the puck rolled off his stick and slithered harmlessly past the right post.
It was symbolic of how things are going for Toews these days.
"It's not fun when you're working as hard as you can and it seems when you're getting close to the net that pucks are bouncing off your sticks or shots are getting blocked," Toews said. "No frustration. No excuses."
It's amazing that Toews has hit a rut like this considering the unbelievable run he went on from February through June last year.
He went from being one of the last forwards selected for Team Canada's Olympic squad to being named the tournament's best forward after helping his country win a gold medal. Toews followed that up with a magical spring that was capped with a parade through his native Winnipeg with him in a car, the Stanley Cup on one side and the Conn Smythe on the other.
Now he can't buy a goal -- and his team can't buy a win. He's finding out how the other half lives.
"He's fine," Patrick Kane said of Toews. "That's the last guy you've got to worry about."
But Toews is the first guy the Hawks should want to help because oftentimes he's the one putting this team on his shoulders and carrying it when times are tough. Now is a time when he needs someone else to lift him up -- except Patrick Sharp and Marian Hossa have similar zeroes next to their names through two games against Vancouver, while Kane has only a secondary assist.
Chicago has goals from Ben Smith and Viktor Stalberg, one guy who last year was playing for Boston College in the Frozen Four and another who was home watching the playoffs after failing to make it with Toronto.
On the other side, Vancouver got 2 goals and an assist from NHL scoring leader Daniel Sedin on Friday as well as an assist from Henrik Sedin, last season's MVP. Ryan Kesler, a 41-goal scorer in the regular season, has 2 assists and 10 shots on goal in the series as well.
"The guys that were here last year and the year before know that this is a big time and it might be our time to step up now, and hopefully take control of the series," Kane said.
Toews wants to be one of those guys. He has to be one of those guys if the Blackhawks are going to make a series out of this against Vancouver, except this might be the rare time where he might have to follow someone else's lead.
Who will that be?
"He's our leader and he's our best player," Hossa said, "but definitely somebody else has to step up."
Follow Dan Rosen on Twitter at: @drosennhl