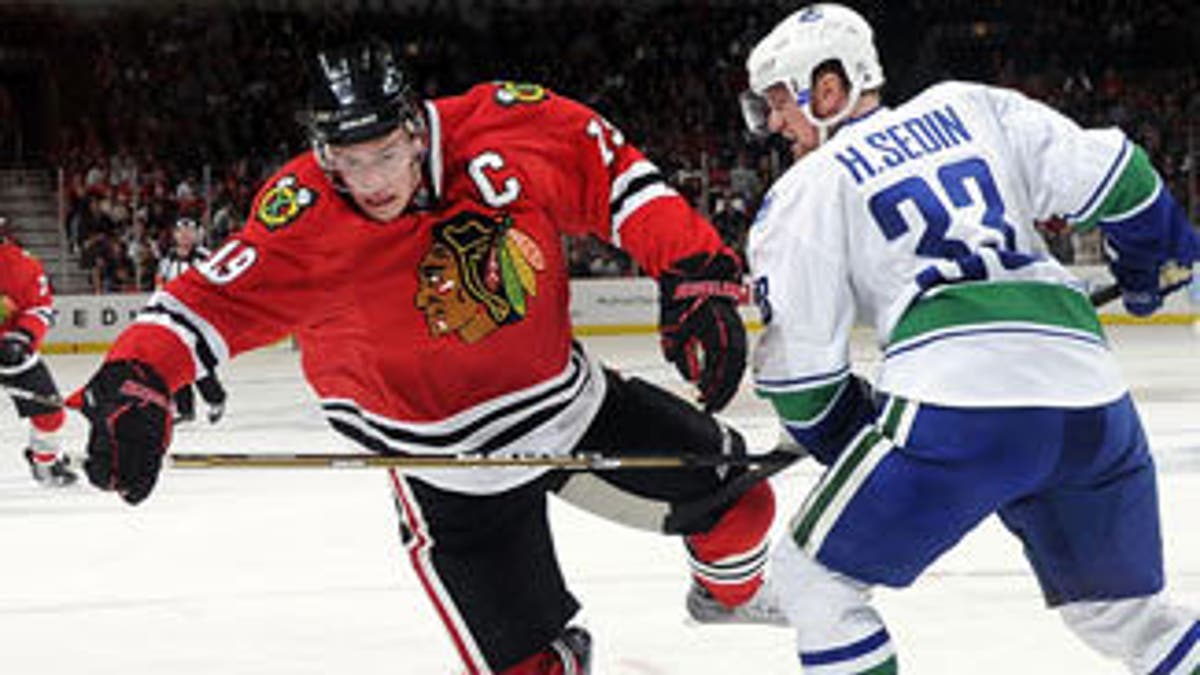 CHICAGO -- He's yet to score in this series, but if it's bothering him, Chicago Blackhawks captain Jonathan Toews has a funny way of showing it because he is definitely not at a loss for words.
Toews, known in these parts as "Captain Serious," is always one of the media's go-to players in Chicago's dressing room following a game because it's his responsibility as the team captain to speak for his club. Toews has not disappointed with his words yet, and he was particularly on his game after Sunday's 4-3 overtime victory.
Here is a small sampling of what he had to say:
Q: What were your thoughts on the changes they made, specifically Cory Schneider for Roberto Luongo?
Toews: It's easy to get caught up in what they're trying to do. Obviously they're trying to change things up as a team, but we said you know what, to heck with what they're doing. Their strategy might change, but it doesn't mean ours will. We went into this game with the same mentality that we wanted to have a great start and work as hard as we did in previous games. You had to imagine tonight was going to be a tighter game than the last couple. Again, this is playoff hockey and you've got to find a way. We've been real tough to play against. It's been awesome.
Q: Now that you've come back in this series, can you describe the feeling considering all of your ups and downs during the regular season?
Toews: We just have to feel like things are going to go our way. We have to feel like it's meant to be. We have a great feeling in this locker room right now and that's what you get when you win three games in a row, stealing momentum from that team and fighting our way back in this series. Coming into this game people were talking like we were up in the series. We knew we weren't. We knew we still had a lot of work to do and we still do. One more game and anything can happen now.
Q: Are you in Canucks' heads now?
Toews: Whether that's true or not doesn't matter to us. Our mental game is to stick through it, stay confidence and calm out there. We know it's going to be crazy in Vancouver when we get there. Just stick with our game, nothing changes. This is what it comes down to, Game 7. I don't think there are too many of these guys, even the ones that won the Cup last year, that have gotten to play in a Game 7 yet. This is big time hockey.
Follow Dan Rosen on Twitter: @drosennhl