To get Roger Federer flustered, just focus attention on his nose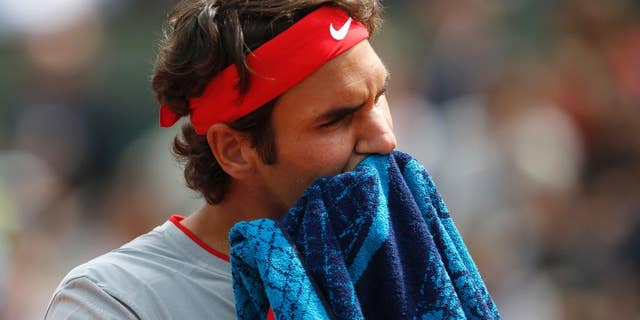 PARIS – Roger Federer is known for his calm and poise, and for winning a whopping 17 Grand Slam titles.
But if you want to get him flustered, just stare at his nose.
"I don't like it when they come too close," Federer said Sunday about the cameras and the cameramen at tennis tournaments. "Not necessarily the Spidercam, but the cameraman himself, when I feel like he's just filming my nose or something."
Another issue is when the cameras get close when Federer is changing shirts during a match.
"It's not like because I like to do that, but it's because I have to," Federer said. "And then it's like that focus, I feel like it's a bit odd, you know, 'Who is that guy controlling the camera?' I don't know. Is he a weirdo or not? I don't know. That's probably why."
The cameras will surely be focused on him again at this year's French Open because Federer advanced to the second round by beating Lukas Lacko of Slovakia 6-2, 6-4, 6-2.
— Chris Lehourites
___
BACK TO BUSINESS: After nearly 20 years as a professional tennis player, Venus Williams is going back to school.
The seven-time Grand Slam champion said she is taking business classes at Indiana University East, focusing her spare time on doing homework.
"I just thought it would help me out in terms of just being more well-rounded with my design businesses," Williams said after winning her opening match at the French Open. "And I was in school a while, but I had to take some time off because my health went down. I didn't have the energy to do everything.
"So now I'm back and I'm going to close it out, you know, like you're at 5-1 in the third."
— Chris Lehourites
___
French Open Watch follows tennis' clay-court Grand Slam tournament in Paris as seen by journalists from The Associated Press. It will be updated throughout the day.