TJ Dillashaw wants his rematch: 'I think I'm still the champ'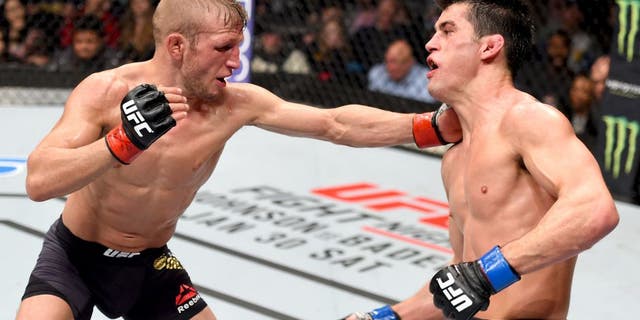 TJ Dillashaw won't get past his loss to Dominick Cruz until he has a chance to avenge it with a rematch against the new bantamweight champion.
Dillashaw joined the Great MMA Debate podcast this week where he stated emphatically that he wanted the rematch with Cruz after he lost by split decision in a very close fight that took place in Boston just over a week ago.
"I really believe that's my fight, my belt and I want that," Dillashaw said on the show. "I don't think anybody else deserves a shot over me. I think I'm still the champ."
Dillashaw doesn't take credit away from Cruz, who came back from knee surgery and with only one fight in the past four years before taking the title home. Still, Dillashaw can't believe he didn't get the decision in the end and he's even more confident now that he won the fight than the night his hand didn't get raised.
The situation has bothered Dillashaw so much, he's lost sleep over it.
"It's been tough to take and sleep sometimes," Dillashaw said. "First and foremost, I've got to give Dominick Cruz a big shout out. He looked good, it was a great fight, it was a close fight, I watched it -- I was super entertained. The night of the fight, getting asked in all the interviews, I thought I won. My answers were that I felt that I won the fight. It was really close but I felt that I won maybe three rounds to two.
"The first time that I watched it on the plane ride home, even more confident that I won that fight. I think the judges were scoring things that don't actually score."
Dillashaw hasn't spoken to the UFC yet since leaving the arena that night and flying back home to Denver, but he hopes to have that conversation in the very near future.
Dillashaw doesn't see any other viable option for Cruz right now other than giving him the rematch. With so many other former champions earning automatic rematches after being knocked out or losing by submission, Dillashaw believes he deserves to get a second crack at Cruz after a fight where many people scored him winning.
Dillishaw's biggest concern right now is Cruz staying healthy after he sat out the biggest part of the past four years and stated after their fight that he's already dealing with a foot injury.
"Hopefully, Cruz is healthy," Dillashaw said. "I know his leg is a little bit messed up or his ankle or whatever and he can't get right back in there. I'm scared that he's going to be that champion that's hurt all the time, be on the shelf and have to wait to fight him again. I'm just scared that he's either going to retire or he's going to be on the shelf forever and I'm never going to get that win back that I felt I had
"I'm really pushing for this rematch as soon as possible before this guy continues to get hurt."
The only other obstacle that stands in his way right now seems to be his former teammate Urijah Faber, who has been calling for a third fight with Cruz ever since the fight with Dillashaw ended. Cruz even came around and said that he would like to fight Faber for his first title defense.
Dillashaw isn't buying it and doesn't see why Faber would get a shot right now while he was a two-time defending champion.
"He doesn't deserve it. Let's be honest," Dillashaw said. "He's already had what seven or eight title shots? The guy hasn't got it done. He hasn't beaten anybody relevant to be getting a title shot. He's got a big name and a story behind him, which brings in money, and that's the only reason at all he's being mentioned for a title shot."
Listen to the rest of the interview with Dillashaw on the Great MMA Debate podcast via Soundcloud or download and subscribe to the show via iTunes.