TJ Dillashaw: I deserved the decision over Dominick Cruz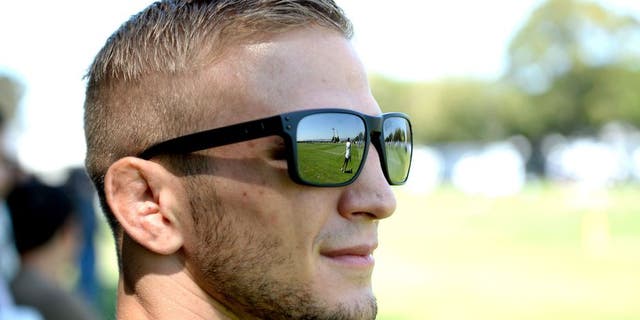 TJ Dillashaw was gracious after losing a split-decision to Dominick Cruz, Sunday in their bantamweight championship fight. That doesn't mean that he was happy or agreed with the decision, however.
"I definitely feel like I won that fight," he said at the post-event news conference.
"I mean, I was pushing forward, being the aggressor, landing the bigger shots. I just don't understand how you can't score it for that."
Both men scored nearly equally in overall strikes, and Cruz had the edge in takedowns. Dillashaw feels as though his landed strikes were the far more powerful ones, however.
"I'm making him miss and hitting him again --€" and just knowing he didn't have anything on his punches. I felt like whatever he was going to give me wasn't very dangerous," he continued.
"I feel like I was coming forward and that's how I was going to win the fight --€" just being the more dominant fighter and coming forward and hitting him with those big shots and landing those kicks."
Dillashaw's best blows were probably his kicks -- to the head, body and, most significantly, to the lead leg of Cruz. Dillashaw gave Cruz credit for doing a good job, but ultimately that Cruz's best moments were fleeting, while his own did real damage.
"Dominick is a very good fighter," he said.
"I do feel like I won the fight [on] just pressure alone, controlling the octagon and landing the bigger strikes. I know he got a few takedowns that I don't really feel like should be scored that great with three seconds of control total."