Titans WR coach says Justin Hunter poised for big year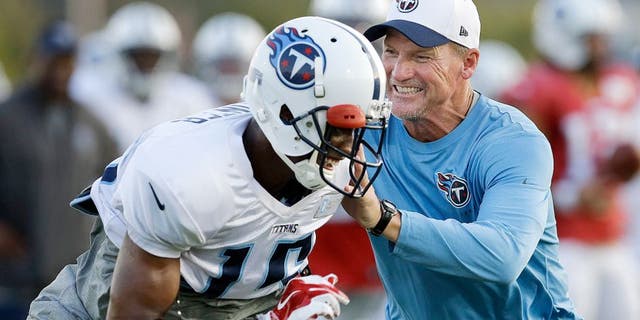 Tennessee Titans wide receiver Justin Hunter enters the team's first preseason game Friday against the Atlanta Falcons with what his position coach says is a different approach from previous seasons.
"A lot of times, new receivers come into the league with the physical tools, but the mentality hasn't caught up," Titans wide receivers coach Shawn Jefferson said, via ESPN. "We're seeing his mental catch up to his physical skills now. He's making some plays. It's like now he expects to make them, when before he was unsure. He goes to the line now like, 'Give me this rock.' And that's what you want to see."
Now in his third season, Hunter said part of his new approach is not dwelling on any mistakes that occur and moving on to the next play.
"Confidence and aggressiveness will come. Coach says make a few plays and it'll follow," Hunter said. "To get past something, I've got to get back to the fundamentals and basics, start over from scratch. Make sure you can rebound from it."
In an injury-shortened 2014 season, Hunter caught 28 passes for 498 yards and three touchdowns. He hopes his new attitude results in more production.
"Going into my third year, I guess I'm just taking it a different way," Hunter said. "I'm still in the building stage, I've still got things I need to learn, new positions, different concepts.
"I think I've limited most of the mistakes; I don't make too many mistakes out there. If I do, it's a brain fart and I come back and fix it and make sure it's corrected."
Hunter was arrested in connection with a July 3 bar fight in Virginia and faces a preliminary hearing Sept. 3. According to ESPN's Paul Kuharsky, head coach Ken Whisenhunt said the incident hasn't proven to be a distraction for Hunter in training camp.
A second-round pick in 2013, the Titans are counting on Hunter to becoming a dependable receiving threat for rookie quarterback Marcus Mariota.
"There comes a time we've got to s--- or get off the pot, and this is his moment," Jefferson said. "All signs point to him having a really good year this year."
(h/t ESPN)