Titans take exception to Newton's dancing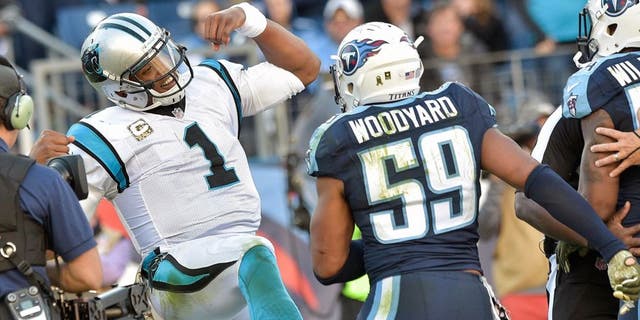 Carolina Panthers quarterback Cam Newton punctuated his one-yard touchdown late in Sunday's 27-10 win over Tennessee with a celebration that clearly rubbed some of the Titans the wrong way.
Newton broke out in a lengthy dance after his score, prompting Titans linebackers Wesley Woodyard and Avery Williamson to take exception, getting in Newton's face.
Tennessee interim head coach Mike Mularkey said Newton's celebration wasn't an isolated incident.
"He did it all game, which I guess that's acceptable,'' Mike Mularkey said, per the team's official website. "It's not taunting, but in my mind, it is."
While the Titans weren't necessarily pleased with Newton's antics on Sunday, they said ultimately it was up to them to stop him and they didn't.
"That's part of the game, but Cam takes it to another level, that's just who he is. The one thing I can say is at least he's shown it week in and week out,'' Titans linebacker Brian Orakpo said. "So I really can't get too mad because he's consistent with it.
"He's having fun and we have to try and keep him out of there. He finally got in at the end and it wasn't to our liking."
MORE NEWS: Want stories delivered to you? Sign up for our NFL newsletters.