Titans QB Marcus Mariota sprains MCL, status uncertain for Week 7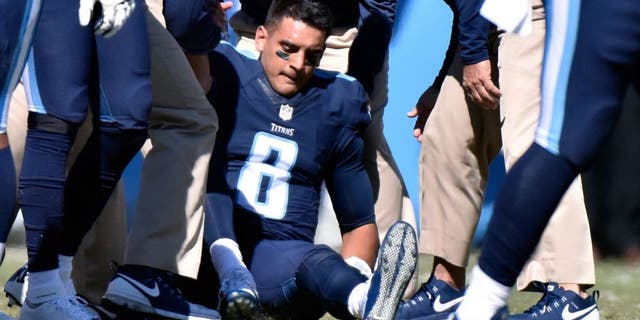 NEWYou can now listen to Fox News articles!
Tennessee Titans quarterback Marcus Mariota sprained his MCL an MRI revealed on Monday.
Mariota sustained the injury during Sunday's loss against the Miami Dolphins when linebacker Olivier Vernon delivered a low hit on the quarterback.
Head coach Ken Whisenhunt told reporters that the team won't put Mariota in any situation to put him in any kind of jeopardy. With the cautious take, Mariota's status is uncertain for Week 7's matchup against the Atlanta Falcons.
During Mariota's rookie season, he has completed 64 percent of his passes while throwing for 1,239 yards, 9 touchdowns and 5 interceptions. The former No. 2 overall pick has also been subjected to a the third most sacks in the league (19).