Titans eager to start fast, play complete game to help turn down volume of Seahawks' crowd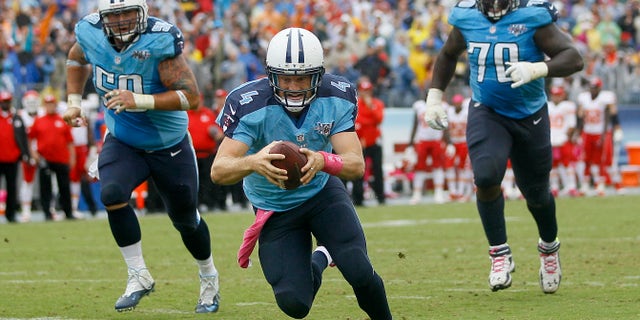 NASHVILLE, Tenn. – The Tennessee Titans are ready to put together a complete game.
Mistakes on special teams put the Titans in the hole in the opening minutes against Pittsburgh and Kansas City. The defense took its turn giving up opening touchdowns to Houston and San Diego. The offense stumbled by going three-and-out on its first five series in last week's loss to the Chiefs.
Titans coach Mike Munchak said Thursday it seems like one phase struggles every game. Just when the defense performed well early the past two weeks against the Jets, then the Chiefs, the offense took its turn struggling with the ball.
Now the Titans (3-2) need a fast start all around Sunday when they visit the Seahawks (4-1) to have a chance to quiet down fans who love to crank up the volume or face a very long day.
"We can't afford to have a slow first quarter for anybody," Munchak said. "We just have to come out and play much better early in the game especially on the road at a tough place to play against a good football team. We all know that. We're doing everything we can to accomplish that, and we'll see what happens."
The Titans have had some downright ugly starts.
Darius Reynaud stepped on the goal line 3 seconds into the season opener for a safety giving Pittsburgh not only a lead but the ball. The defense came through in that game with a key turnover for a big road win. Last week, Reynaud let a punt bounce only to have it glance off a teammate and into the end zone for a Kansas City touchdown.
Linebacker Moise Fokou said it's been tough putting everything together from the opening kickoff, but they are trying to get all three phases of the team together.
"We know we got something special here, but we've yet to kind of totally play a complete football game, and that's what it's all about," Fokou said. "Every week we're getting better in every phase."
Offensively, the Titans had an excuse for the slow start in their 26-17 loss to Kansas City.
Ryan Fitzpatrick started with Jake Locker sidelined with his sprained right hip, and Fitzpatrick missed his first six passes with Tennessee finally getting a first down almost midway through the second quarter. Fitzpatrick led the Titans to 17 straight points after halftime, and he expects to have better timing after two weeks of practice with the starters.
"The more we work together, the better it's going to get," Fitzpatrick said. "But there's definitely a different comfort level this week than there was last week just because I've been through it now."
The Titans have played some very stingy defenses to start this season. The Seahawks will be the fifth defense ranked in the top 10 they've faced through the first six games. This time, they'll also have to be ready for the Seahawks' loyal and loud fans.
Offensive coordinator Dowell Loggains remembers Seattle fans staying to the end of a Titans' win in their last trip in 2009. So starting fast on offense is a must Sunday.
"You start fast, you kind of control the crowd level," Loggains said.
If the Titans can play well from the beginning, they can't afford any letup late. This is a team that could be undefeated if the Titans had protected fourth-quarter leads against both Houston and Kansas City.
"It's just us not finishing when we need to," tight end Delanie Walker said.
Notes: Munchak said Jake Locker probably will travel with the team to his home state even though the quarterback won't play. The coach said Locker can have treatment and get more work in being with the team. ... DT Sammie Hill (right ankle) took part in individual drills Thursday for his first work since getting hurt Sept. 15. DE Derrick Morgan (shoulder) did not practice. DB Coty Sensabaugh (concussion) was limited and took part in some team drills.
___
AP NFL website: www.pro32.ap.org
___
Follow Teresa M. Walker at www.twitter.com/teresamwalker