Tip-ins: Stanley Johnson makes solid debut in Pistons' preseason loss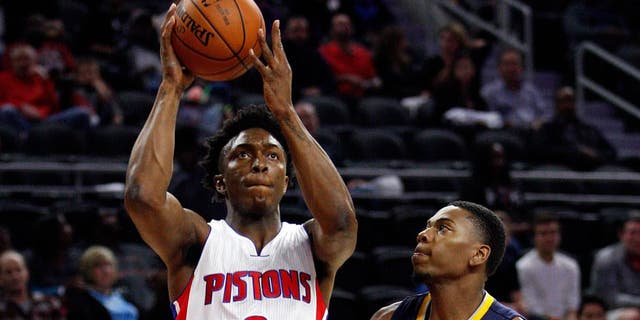 NEWYou can now listen to Fox News articles!
Stanley Johnson, the Pistons' first-round draft pick in 2015, led Detroit with 26 points but the team dropped its first preseason game to the Indiana Pacers 115-112 Tuesday night.

NEW IN TOWN
Johnson gave Detroit fans a sneak peak of what they can look forward to seeing from the rookie this season. Johnson made his first shot of the game, a 3-pointer, and had an impressive steal and slam dunk combination in the first half. He had 26 points and four assists in his debut.
"You certainly saw rookie moments but you saw a really competitive guy and I think that's the main thing," said Pistons coach Stan Van Gundy. "The guy's really, really competitive."
Forwards Marcus Morris and Ersan Ilyasova and guard/forward Darrun Hilliard also made their debut Tuesday.
KC-THREE
Kentavious Caldwell-Pope picked up right where he left off beyond the arc last season. Caldwell-Pope hit six of seven 3-pointers in the Pistons' loss Tuesday. He was 153 of 444 last season.
HOMECOMING
Former University of Michigan standout Glenn Robinson III, who is entering his second year in the NBA, signed a three-year deal with the Pacers during the offseason and returned to Michigan for the preseason matchup against the Pistons. In just over 24 minutes of play, Robinson recorded 13 points.
INJURY UPDATE
Aron Banes (sore right ankle), Reggie Jackson (sore right Achilles), Adonis Thomas (right Achilles strain), Brandon Jennings (rehab, left Achilles) and Steve Blake (concussion) were out for the Pistons' first preseason game.
NEXT UP
The Pistons will host the Brooklyn Nets on Thursday, Oct. 8 at 7:30 p.m. The game will be streamed live on FOXSportsDetroit.com.