Time to crown NHL award winners in shortened season as Stanley Cup chase heats up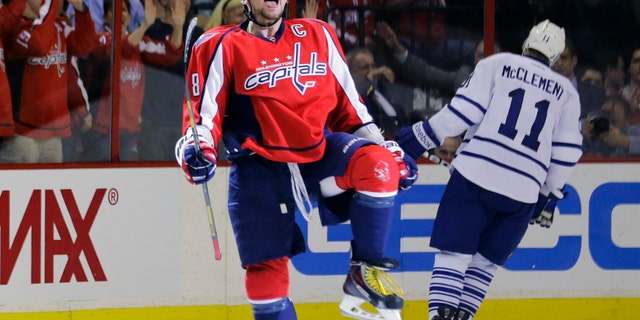 Remember the lockout? All that outrage over meaningless November and December games that were scrapped because of the labor dispute have faded from memory as the season comes down to a handful of games.
Once a partial season was salvaged, so was the chase for the Stanley Cup.
This year the Stanley Cup run really heats up — June 28 is the last possible date for the finals.
Hockey, anyone? The late June sports calendar is usually reserved for Wimbledon. Forget the volleys this year and brace yourself for some checks.
The playoffs are a one-timer away and 15 teams are out to dethrone the Los Angeles Kings and hoist the Stanley Cup.
First though, a quick look back at the regular season and who deserves some "Around the Rinks" hardware. Time to pick some winners and find out who deserved awards that will have a lasting impact, even in a shortened season.
_____
Hart Memorial Trophy (most valuable player): Pittsburgh's Sidney Crosby had the MVP locked up through 36 games. He led the league in points and helped position the Penguins as the team to beat in the Eastern Conference. There's no doubt Crosby will still get some major consideration to win the NHL's biggest individual award. Aided by some additional recovery time because of the lockout, he put his concussions behind and again became one of the league's dominant players. But Crosby hasn't played since he was struck in the face by a puck on March 30. In his absence the Penguins, well, they're loaded with talent and still in first place. In just three weeks, that opened the door for Washington's Alex Ovechkin to surge ahead for top honors. He has an NHL-best 28 goals and seems set to reclaim the MVP trophy the Russian forward won in 2008 and 2009. "My answer would be, yeah, absolutely," Capitals coach Adam Oates said. "Obviously, Sidney Crosby is another candidate, for sure. He had such a scoring lead. I think you've got to factor in the fact that he's missed a lot of games. That's not really for me to say though." We'll say it for him: Ovechkin can bank on another MVP.
_____
Vezina Trophy (top goalie): Ilya Bryzgalov has cost the Flyers big bucks with not much production to show for their nine-year investment. He has been so erratic, Philadelphia went out and acquired Columbus backup Steve Mason and gave him some spot starts as it makes a last-gasp push for a playoff spot. Just think where the Flyers might be if they had the top goalie in the NHL. Oh, wait. They did. And they traded him to Columbus. All that move did was help transform Sergei Bobrovsky into one of the toughest goalies to beat. He has 17 wins and four shutouts and has the Blue Jackets primed for the postseason. He went 3-0-0 with a 0.97 goals-against average, .971 save percentage and one shutout in three games, stopping 100 of 103 shots last week. He's getting hot at just right the time, and that could be enough to win a round or two — as well as the Vezina.
_____
Norris Trophy (top defenseman): Ottawa's Erik Karlsson saw his chance to defend his trophy come to a devastating end with one vicious slash of a skate blade across his left Achilles tendon. Karlsson is expected to make a full recovery and return for next season. But that meant there would be a new Norris Trophy winner this season. Kris Letang of Pittsburgh, and Ryan Suter of Minnesota have made their case to earn the award. But no defenseman has proved he deserved top honors like Montreal's P.K. Subban. Subban has put all of his flashes of brilliance together for previous seasons and did it over the long haul this year. He's the NHL's top-scoring defenseman (11 goals, 36 points) and leads the Canadiens in points entering Wednesday's games. Subban's posted those numbers even after sitting out training camp and the first six games of the NHL regular season while negotiating a new two-year contract. Subban's proved he's worth every penny of the new deal.
_____
Calder Trophy (most outstanding rookie): This is a tough one. Chicago Blackhawks forward Brandon Saad and Florida's Jonathan Huberdeau are certainly in the mix. Huberdeau, actually, has been one of the only reasons to pay attention to the worst team in the NHL. The Blackhawks think enough of Saad to pair him with Jonathan Toews and Marian Hossa. Not bad company. But the front-runner for this award is Montreal's Brandon Gallagher. He has 13 goals, 24 points and has outplayed rookie teammate Alex Galchenyuk to stand as the class of the crop and be one of the few to win a major award in his first season.
_____
Jack Adams Trophy (top coach): How do you pick the top coach? Is it the one leading the team with the best record? Well then, come on down Chicago's Joel Quenneville. Or is it the one who's pulled off a nice professional comeback? If so, how about Bruce Boudreau? But this year's pick comes from north of the border in Montreal's Michel Therrien. The fabled Canadiens finished last in the Eastern Conference last season. Therrien returned to the team that gave him his first NHL job a decade ago and quickly turned a 31-35-16 team from a year ago into the Northeast Division leaders. Only Pittsburgh has more points in the East and suddenly a championship shine has been restored to Montreal.
_____
That's a look back. Now, let's see what the next two months will bring in the NHL:
Michel Therrien has worked wonders in his first season on Montreal's bench. Just wait until he leads the Canadiens back to the Stanley Cup finals.
He just won't win the Cup.
The Chicago Blackhawks couldn't be beat to start the season and they'll be even tougher to get past in the playoffs. Does any team boast three better, healthier players than Patrick Kane, Jonathan Toews, and Marian Hossa heading into May. The Blackhawks won the Cup in 2010. They'll prove they're no one-year wonder and top Montreal in seven games to bring it back to Chicago.
___
Follow Dan Gelston at http://twitter.com/APgelston