Tim Tebow's improved throwing motion is looking good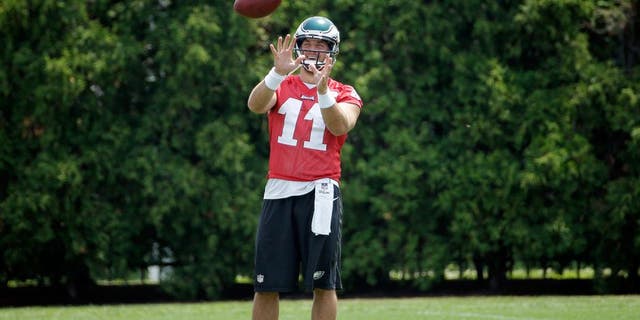 People have called Philadelphia Eagles quarterback Tim Tebow many things, but one term they have to add to that list is humble. After finding no NFL teams to take him in, Tebow went back to square one and began training with former MLB pitcher Tom House.
House helped him retool his mechanics and throwing motion. Tebow said the pair worked "from the ground up," focusing on "balance, posture, sequencing, timing," per John Gonzalez of CSN Philly.
The early results were very positive coming out of the Eagles' spring practices. Head coach Chip Kelly and new teammate DeMarco Murray both praised Tebow for what they had seen so far.
In the video below, via USA Today, you can get a look at Tebow's concise new throwing motion.
Training camp gets underway on Aug. 2 for the Eagles and Tebow, and the veteran quarterback will be looking to put his new throwing motion on display in live drills.
(h/t USA Today)
Photo Credit: AP Photo/Matt Slocum