Tim Tebow mocked relentlessly by minor league team all weekend long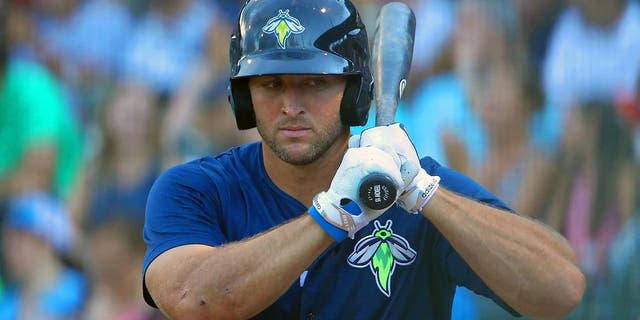 NEWYou can now listen to Fox News articles!
The Charleston RiverDogs really love messing with Tim Tebow.
The Class-A affiliate of the New York Yankees took on Tebow (quite literally) and his Columbia Fireflies over the weekend and didn't appear to be very hospitable hosts.
The RiverDogs blasted the former Heisman Trophy winner during his visit to "The Joe" nearly every chance they got.
They started by playing the infamous clip of Tebow crying after Florida's loss to Alabama in the 2009 SEC Championship Game.
The RiverDogs' mascot did his part towards the Tebow trolling by wearing eye black with the former Gator QB's motivational "John 3:16" written on it.
Charlie T was later seen "Tebowing" on the field.
Throughout the night, every time a Columbia hitter came to the plate, the scoreboard reminded fans that not every player on the roster is Tim Tebow.
The RiverDogs made sure the mockery was seen by as wide of an audience as possible, sharing all of the antics on social media.
If the main objective was to get inside their opponents heads, you could argue that it worked, at least somewhat, as Charleston took two out of three games from Tebow and the Fireflies.