Tim Tebow makes a splash in 1st Double-A game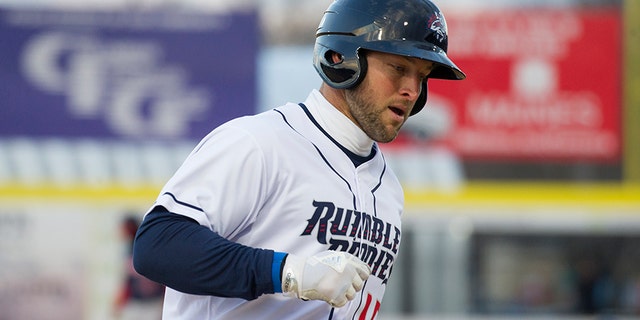 NEWYou can now listen to Fox News articles!
It's Tebow Time on the diamond!
Playing his first game of Double-A ball, Tim Tebow, the famously faithful Heisman Trophy winner and former NFL quarterback, hit a three-run homer on the first pitch he saw.
The New York Mets minor leaguer connected on a frigid Thursday night at home for the Rumble Ponies of Binghamton, N.Y., in the Eastern League, facing Portland.
He sent a liner far over the fence down the right-field line as the crowd at NYSEG Stadium stood and cheered the 30-year-old outfielder.
The lefty-swinging Tebow capped a five-run first inning against righty Teddy Stankiewicz, a second-round draft pick by Boston in 2013. The Sea Dogs are a Red Sox affiliate.
Tebow, who arrived in town Monday, started in left field against Portland and batted seventh.
Tebow's appearance lured Mets chief operating officer Jeff Wilpon north from New York City to take a closer look at the organization's most unusual prospect.
"He's another ballplayer. I understand all the excitement because it's Tim Tebow," Wilpon said before the game. "We look forward to having him perform and move up the system, which he's doing. That's why he's here — moving up the chain."
"He did well last year in A ball. Now, he's got to prove himself here and probably have to go to Triple-A at some point."
"He's a hard worker. He'll do whatever he has to do to succeed," he said about the outspoken Christian athlete.
Binghamton hitting coach Val Pascucci, Tebow's manager last year in the Instructional League, said he's seen steady improvement.
"He comes in, gets his swings in early. He's been consistent with it," Pascucci said. "That's kind of the name of the game, finding a spot where he's comfortable in the hitting zone. He's been repeating that swing pretty well right now. To see him a year later with the improvements he's made in his swing, that's a tough thing to do, catch up all those years."
"But from the first time I saw him to this spring he's made some nice improvements. He's always looking to get better," he said.
Early in spring training, Mets general manager Sandy Alderson said he thought Tebow had the talent to make it to the big leagues. Alderson said the experiment wouldn't last forever, but he remained optimistic because Tebow had made "meaningful progress."
Tebow, who was not on the Mets' 40-man major league roster, was re-assigned to the Rumble Ponies after going 1 for 18 (.056) with 11 strikeouts in seven big league exhibition games. He was hampered by a left ankle sprain and had been used solely as a designated hitter or pinch hitter because of the injury.
Tebow split last season, his first in the minor leagues, between a pair of Class A teams — Columbia and St. Lucie in the Florida State League. He hit .226 with eight homers and 52 RBIs in 126 games.
The Associated Press contributed to this report.