Tim Clark stepped off a plane, into the Carolina snow and under fire to embark on career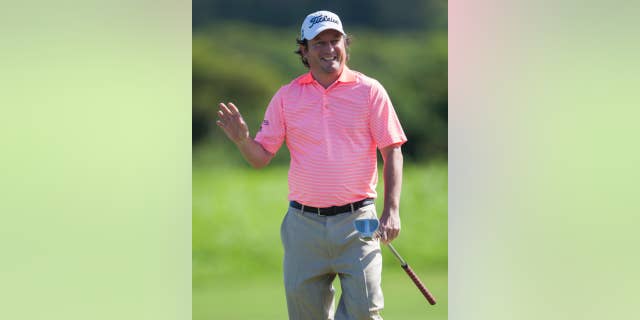 NEWYou can now listen to Fox News articles!
KAPALUA, Hawaii – Tim Clark knows all about pressure, and not just when he's in contention at a golf tournament.
Clark has had a productive career as he enters his 14th season on the PGA Tour. His two victories include The Players Championship. His six international titles include the Australian Open and Scottish Open. He has played on three Presidents Cup team.
And it all started with a tryout in the North Carolina snow.
For a South Africa who didn't have the pedigree of an Ernie Els or Retief Goosen, Clark never imagined how he could get to the toughest tour in golf. Travel was long and expensive. A chance to play college golf turned out to be the best thing that ever happened to him.
There was another South African playing at North Carolina State, and one year his father had come over to watch Simon Hobday in the U.S. Senior Open at Pinehurst. He spoke to Wolfpack golf coach Richard Sykes about Clark, who was approaching his 20th birthday.
"His dad spoke to the coach and said, 'Listen, there's a kid in South Africa who would really like to come and play on your team right now if you'd give him a chance,'" Clark said. "So he called me up and said, 'You can come in the spring. If you play any good, you can stay. If you don't, sorry, your scholarship is gone.' And then I made first-team All-American in the spring."
But it wasn't that easy.
Clark had only been to America once in his life. He came over in 1993 with Rory Sabbatini to play in the International Junior Masters (Sabbatini won). They headed over to Las Vegas for an AJGA and were asked to qualify (Clark was the only one who did). The Junior World at Torrey Pines was the next week, but Clark said South Africa was banned because of apartheid.
And then he went home, until North Carolina State gave him a chance — with a caveat.
"I left South Africa on Christmas Day because that's the cheapest flight," Clark said. "We landed and it was snowing. And I was like, 'Wow, I'm not prepared for his.' I live in weather like this (Hawaii) all year round. Coach picked me up. He had never seen me play before and he took me to hit balls — straight off the plane, in the snow. He just wanted to see what he had."
Clark apparently swung the club good enough. Along with getting off to an All-American start that spring, he won the U.S. Amateur Public Links the next year and played in the 1998 Masters. He turned pro later that year, spent two years on the Nationwide Tour, won twice in 2000 to the PGA Tour and was on his way.
"The biggest opportunity I had in my career was to go there and play," Clark said.
It's not an unusual path for international players. Colin Montgomerie went to Houston Baptist. Luke Donald went to Northwestern, earned a degree in art and won an NCAA title. Graeme McDowell played at Alabama-Birmingham.
Back then, it was rarer for South Africans given the distance and lack of attention unless young Springboks could make frequent trips to America.
"When we grew up, the PGA Tour was like an afterthought," Clark said. "You never thought that was even a possibility. I was lucky to come over to college and have that opportunity. For most of us, that was so far-fetched. Financially, it's a big thing to come from South Africa to play Q-school. Guys can't afford it. For me, that was probably the biggest break I ever had in my career."
___
MONDAY FINISH: The Hyundai Tournament of Champions is the second PGA Tour event that ends on a Monday. The other is the Deutsche Bank Championship, which has ended on Labor Day since its inception in 2003 and it works beautifully with the Boston community.
As for Kapalua? The decision to switch to a Monday finish didn't make sense four years ago, and it doesn't make sense now.
For sure, the tour wants to get away from the NFL playoffs. But the NFL is not played on Sunday night — the second game ends about 8 p.m. EST — and that would be ideal for the frigid part of the mainland to watch the final round from Kapalua with scenic shots of surf and humpbacks. Instead, it's only the third round. The final round Monday ends before the college championship game. But the guess here is that most fans aren't watching golf, they're watching the pre-game show.
Worse yet, it cuts into the following week at the Sony Open, a loyal sponsor that is not treated like one by giving it a shorter week.
___
CHANGING TIMES: When the Tournament of Champions first came to Kapalua in 1999, there were 13 major champions in the 30-man field. There are four major champions in the 34-man field this year.
Of course, some of those 13 major champions make 1999 seem a long time ago. The field included Tom Watson and Scott Simpson. The regular winners included Brandel Chamblee.