Tim Cahill has contract terminated by Shanghai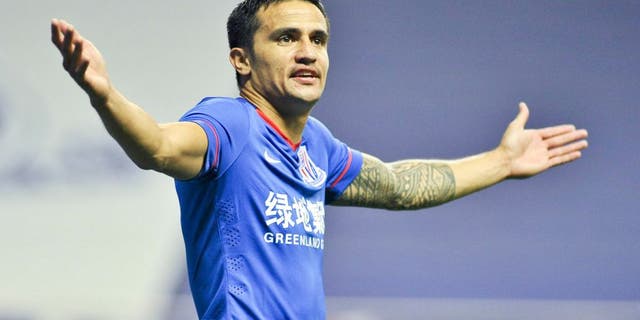 Tim Cahill was left "heartbroken" after having his contract with Shanghai Shenhua terminated on the eve of the new season, the Australian midfielder has said.
Cahill, who joined Shanghai from the New York Red Bulls in 2015, only signed a new contract in November but has been told he does not figure in the plans of new coach Gregorio Manzano.
Writing on Instragram, Cahill wrote: "I'm very sorry to announce that I have reached an agreement with Shanghai Shenhua to terminate my contract after being told that I'm not part of the new coach Manzano's plans for the 2016 season having only just signed a new contract in November.
"This is very sad especially after what I feel I have helped to build in Shanghai Shenhua on and off the park. Just thinking about saying goodbye to my team-mates and especially the amazing fans is heartbreaking."
Cahill's departure comes at the end of a winter of major change in the Chinese Super League in the wake a big-money television deal which has transformed the spending power of clubs.
Although Shanghai Shenhua did not make moves to rival Jiangsu Suning's signing of Alex Teixeira and Ramires, they did bring in Fredy Guarin from Inter Milan among a number of deals.
Cahill, who had been among the bigger names in the league to this point, expressed regret he would not get to play in the new-look competition.
"Regardless of whether my contract is being honored and paid out in full, I would much rather have seen it out and finished what we started," he added.
"I will always think about what could have been for us as a club in 2016. I will be able to share more information in the next 48 hours once the final details have been completed. Next chapter coming very soon!"
Cahill, 36, began his professional career with Millwall before spending almost a decade at Everton. He joined the Red Bulls in 2012 before heading to China in 2015.
The new Chinese Super League season begins on March 4.