Tight end Coffman hoping to find a home with Titans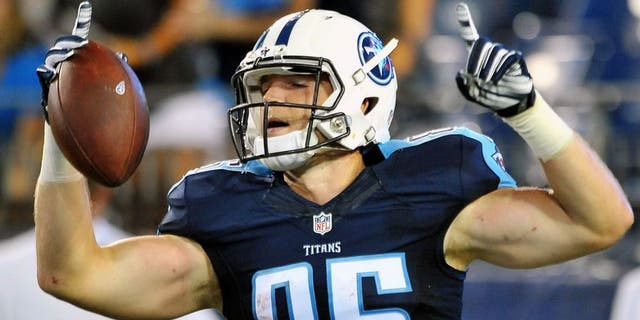 NEWYou can now listen to Fox News articles!
After being cut six times in his NFL career, Chase Coffman is hopinng a strong preseason is enough to convince the Tennessee Titans he's worth keeping on the 53-man roster.
The tight end leads the Titans with six catches for 117 yards and two touchdowns through the first two games of the preseason, including two scores in last Sunday's win over the St. Louis Rams.
A third round-pick by the Cincinnati Bengals in 2009, Coffman has been cut twice by the Bengals, twice by the Atlanta Falcons, once by the Tampa Bay Buccaneers and once by the Titans, who released him at the end of camp last summer before re-signing him in September.
The 28-year-old is competing with Phillip Supernaw and Tevin Westbrook for a spot in the event Tennessee keeps a fourth tight end behind Delanie Walker, Anthony Fasano and Craig Stevens. Walker said Coffman has proven he belongs in the NFL.
"Everybody calls him 'Stick-Ums,'" Walker said, per the Tennessean. "They know if the ball comes his way, he's going to catch it. And he's been doing that since last year. I've always thought Chase was a great tight end. I think when people give him an opportunity, you see what happens. He makes plays, big plays when we need them. … If he's not here, I'm pretty sure he will be playing in the NFL somewhere."
In 13 games for the Titans last season, Coffman caught six passes for 64 yards and a touchdown. A finger injury suffered by Walker in early August provided Coffman more opportunities the last few weeks. He said he's been more focused on being productive rather than worrying about his chances to make the team.
"That's just something that I try not to think about," Coffman said, "because I really can't control it, besides how I play on the field, the opportunities that I get, so whenever I get out there I'm going to try to make the most of them, and we'll see what happens at the end of the preseason."
One thing Coffman is looking forward to is the chance to play near home in Friday night's preseason game in Kansas City. The Missouri native plans to have family and friends at the game.
"The biggest thing is just being able to see my family and my wife and daughter," Coffman said. "It'll be my first time in the NFL playing in Kansas City, so it'll be a fun experience. ... Camp is tough, and then to not be seeing your family is also tough. With the preseason, with the night game, we'll get in and have a lot more time than a usual game, but it's still not as much time as you'd like."
(h/t The Tennessean)