Tigers' Verlander loses no-no to first batter in 9th, one-hits Angels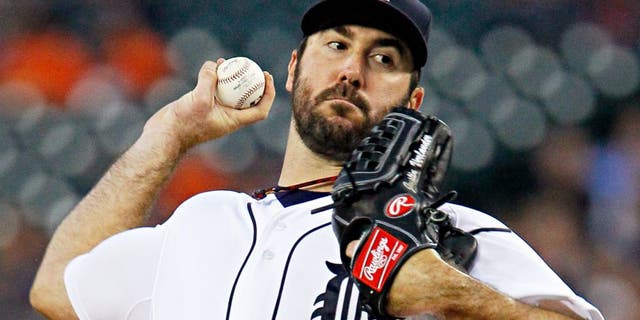 DETROIT -- Justin Verlander lost a bid for his third no-hitter when Chris Iannetta lined a leadoff double in the ninth inning that landed barely fair on the left-field line, and the Detroit Tigers beat the Los Angeles Angels 5-0 Wednesday night.
Trying to become the sixth major leaguer to throw three no-hitters, Verlander settled instead for a one-hit shutout.
He was an inch away from so much more.
Iannetta's shot kicked up chalk and rolled into the left-field corner. Verlander attempted to will it foul with body English, then arched his back in disappointment after the ball hit right on the line.
Verlander (2-6) retired the next three batters to finish his seventh career shutout and first since May 18, 2012, against Pittsburgh. The right-hander struck out nine and walked two in his first win since July 29.
He faced only 28 hitters -- one more than the minimum -- after inducing double plays following both walks.
"Right now it's tough," Verlander said moments after the final out. "I've got to say thank you to the fans. Starting in the seventh inning you guys got on your feet the entire game, and it's been a while since I felt like that on the mound and that's pretty exciting. I'll always remember you guys for that."
Verlander's most recent no-hitter came at Toronto on May 7, 2011. He also pitched one against Milwaukee on June 12, 2007.
This effort marked the seventh time in the last five seasons Verlander carried a no-hit bid into at least the seventh inning. He took one into the ninth in May 2012 against the Pirates before Josh Harrison broke it up with one out.
Verlander's latest gem came five days after Houston right-hander Mike Fiers tossed the fifth no-hitter in the majors this season.
Four times now in 2015 a no-hit bid has been broken up in the ninth inning.
Verlander walked David Murphy on four pitches to start the eighth, then fell behind 2-0 on Erick Aybar before getting a double-play grounder.
Verlander struck out five consecutive batters prior to Murphy's walk, including Mike Trout looking at a breaking ball for the second out in the seventh. Albert Pujols then went down swinging at an inside fastball.
"You always start to think about it probably in the third or fourth inning. But I really keyed the seventh inning with Trout and Pujols coming up, saying, if I can get through this I've got a good shot," Verlander said. "And I've got to tip my cap to Iannetta. He hit a pretty good pitch. My fastball's been working for me all night. I went with it."