Tigers coach Dabo Swinney loses it when asked about 'Clemsoning'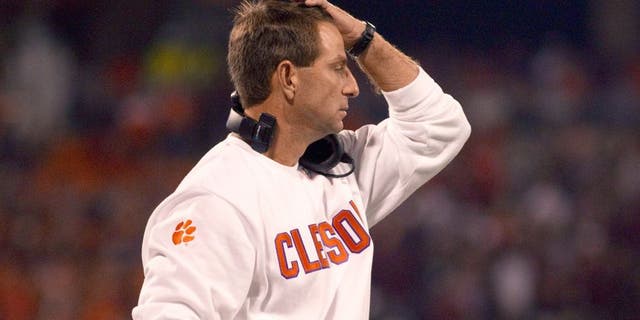 NEWYou can now listen to Fox News articles!
On Saturday Clemson showed no signs of letting its guard down against a struggling Georgia Tech team as the No. 6 Tigers blasted the Yellow Jackets, 43-24.
The victory was the fifth straight for Clemson (5-0, 2-0 ACC), who just last week topped then-ranked No. 6 Notre Dame, 24-22.
Despite all of Clemson's success, Tigers head coach Dabo Swinney still had to answer questions about "Clemsoning," the snarky internet buzzword that is an adjective for when the Tigers blow a big game.
Needless to say, Swinney was not happy about it and let the media know.
"I can't believe I have to come into here with a 5-0 football team that just had a great win and have to talk about 'Clemsoning,'" Swinney said. "It shouldn't even be in the conversation."
Click here to see Swinney's outburst.
(h/t Orange and White)