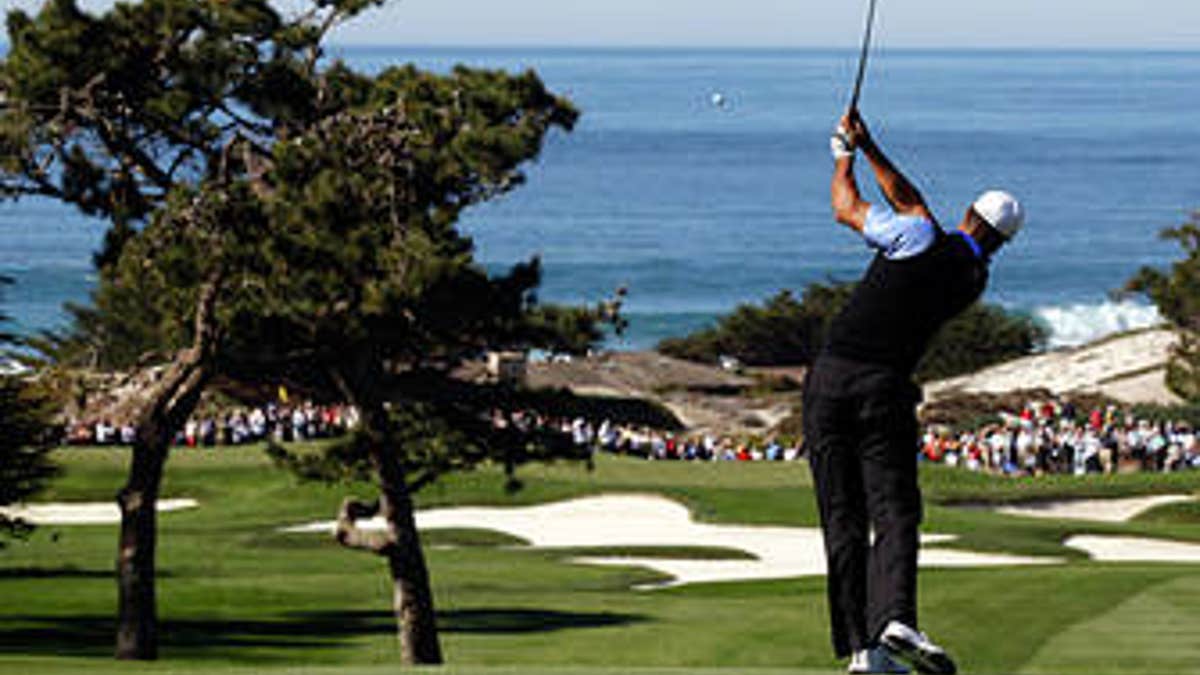 PEBBLE BEACH, Calif. – It's a measure of where Tiger Woods is at - and where he thinks he's going - that he slapped his thigh in disgust after missing an 18 footer for birdie on his final hole at the AT&T Pebble Beach National Pro-Am on Thursday.
Making his 2012 PGA Tour debut, Woods shot a very respectable four-under par 68 at Spyglass Hill.
Spyglass is the most difficult of the three courses used in the tournament, and while only three players bested Woods on the Robert Trent Jones, Sr. layout, he can read leaderboards.
He knows he can ill-afford to let shots slip if he's to win on the tour for the first time in almost two-and-a-half years.
"The guys are just tearing the courses apart with no wind," he said, "I can't get too far behind the lead."
For all the talk of progress and building - toward, presumably, the Masters - Woods' competitive juices were clearly flowing on Thursday.
He finished the day in a tie for 15th, although he was a whopping five strokes behind the leaders.
At Monterey Peninsula Country Club, Charlie Wi took advantage of a perfect day to set the course record with a nine-under par 61. He had a legitimate shot at 59 but settled for pars on his final three holes.
Pebble Beach has rarely been more accommodating. Both Danny Lee and Dustin Johnson, who's won on these links and suffered the ignomy of a final-round implosion at the 2010 US Open, also shot nine-under par.
Right behind them were journeyman Ken Duke and rookie Brian Harman, who also took advantage of a benign Pebble Beach, finishing at eight-under par.
Given the way he split fairways - and was long off the tee, averaging almost 300 yards - Woods could've been closer to them.
It certainly looked like he would given his start, a wedge that hit the flag on his first hole, leading to a three footer for birdie, then barely missed a 12 footer for eagle on the next after a bombed drive and a seven-iron approach.
"That's the highest score he could have shot, I think," said Arjun Atwal, who played with Woods and has been a frequent practice partner in the past.
"He drove it great, hit his irons good. He was actually rolling the ball pretty good, they just didn't go in."
Atwal, who hasn't seen much of Woods since he moved from Orlando to his new estate in Jupiter, saw a difference.
"He's not hurt. He's not limping around anymore. That's a big thing. When he's healthy, he's happy ... anybody would be, I guess," he said.
"When you're hurt and you're an athlete, it just kind of sucks. He's happy and excited about his game right now."
Atwal also noticed that Woods had "an extra gear" in his swing that he hasn't had for a long while.
"That's what he used to do back in the day, he used to get an extra gear and get another 20 yards out of it (on the par 5s). And he did that today," he said, noting Woods made three of his six birdies on par fives.
Atwal also took the opportunity to take a swipe at Woods' estranged coach, Hank Haney, who's about to publish a book on his days in the Tiger camp.
"It's a lot better than when he was working with Hank," he said.
"I played a lot and practiced a lot with him when he was working with Hank, and even though he was winning quite a bit, his misses were a little more off line. You guys saw it. Now his misses are pretty tight."
Woods wasn't as buoyant about his game as Atwal.
He agreed that he "drove it on a string" but bemoaned his sloppy iron play.
"I didn't give myself enough looks when I had wedges in my hand," he said. Couple times I hit it over the green and one time I hit it 70 feet (away)."
With that Woods left to work on his irons on the range, another sign that he thinks he's going to contend here this week.
"I'm not too far from posting a good number out here."