Tickets Available For Only 7 World Cup Games With Greece-Ivory Coast Least Popular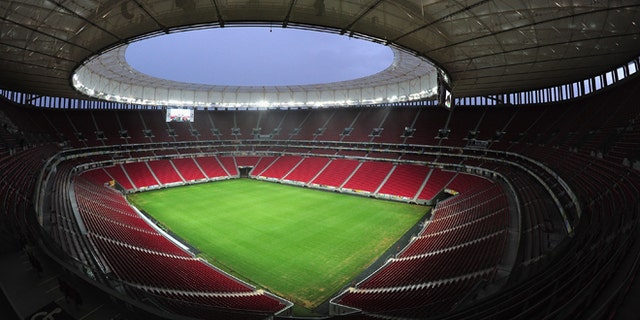 São Paulo (AP) – Tickets remain for only seven of the 64 World Cup matches, with the Greece-Ivory Coast game the least popular one so far.
With less than five days before the latest sales period closes, more than 2.5 million tickets have been sold for soccer's premier event. FIFA says the World Cup in Brazil is the most successful tournament in terms of ticket requests.
Most matches sold out quickly after tickets became available March 12. Fans have until Tuesday to purchase tickets. The next sales phase opens April 15.
The Greece-Ivory Coast game is in the northeastern city of Fortaleza. Nigeria-Bosnia and Russia-South Korea, both in the wetlands city of Cuiaba, also have tickets available.
Tickets are also available for Uruguay-Costa Rica in Fortaleza, South Korea-Algeria in the southern city of Porto Alegre, Honduras-Switzerland in the jungle city of Manaus and Bosnia-Iran in the northeastern city of Salvador.
FIFA doesn't release specific numbers of tickets for each game, but the matchup between Greece and Ivory Coast on June 24 was the only one with "high availability" in three of the four sales categories.
Honduras-Switzerland was the closest to being sold out, with FIFA saying there was "low availability" only in the most expensive category.
In this sales stage, tickets were available on a first-come, first-served basis. More than two-thirds of the matches sold out in less than three hours. Tickets for all Brazil matches were gone in about an hour, as were all of the quarterfinals and nearly all second-round matchups in the June 12-July 13 tournament.
Tickets were not on sale for the opener between Brazil and Croatia in São Paulo, the final at the Maracana in Rio de Janeiro, and the semifinals in São Paulo and Belo Horizonte.
FIFA said about 295,000 tickets have been sold in this phase. In all, about 3.3 million tickets will be sold for the first World Cup in Brazil since 1950.
Nearly 540,000 tickets will be available for pickup beginning in May.
Follow us on twitter.com/foxnewslatino
Like us at facebook.com/foxnewslatino