Thunder to rebuild destroyed courts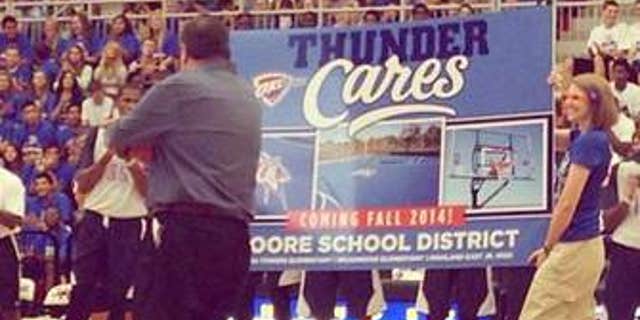 The communities near Oklahoma City hit hard by the May 20 tornado can say that "Thunder cares" is more than just a phrase used by the NBA club to burnish its image.
On Sunday, the Thunder announced the club will rebuild three outdoor basketball courts at schools destroyed by the tornado. Briarwood Elementary, Plaza Towers Elementary and Highland East Junior High School will get new courts, featuring a Thunder look. The funds are coming from the Thunder Cares Foundation.
The tornado, which struck the Oklahoma city of Moore, killed more than 20 people (many children) and injured nearly 400.
"The school facilities, including the basketball courts, served as the heart of these neighborhoods, and we are pleased and proud to be a part of restoring these communities," said Dan Mahoney, the team's vice president of corporate communications and community relations. "We made the commitment from the day the storms began to hold nothing back in responding to these communities' needs. But we have also committed to be a part of the long-term rebuilding process."
--The Associated Press contributed to this report