Thunder, Rockets series turns to Oklahoma City for Game 3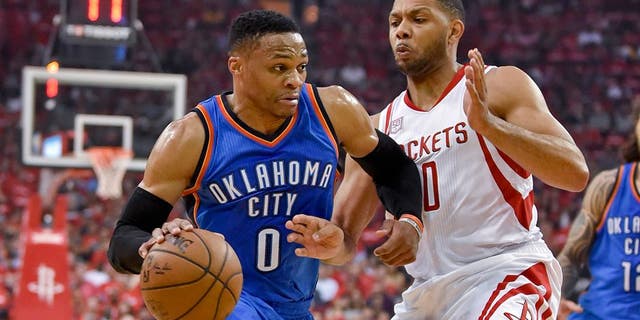 NEWYou can now listen to Fox News articles!
Russell Westbrook's propensity for triple-doubles carried the Oklahoma City Thunder into the postseason.
Two games into their series with the Houston Rockets, Westbrook has one more triple-double.
Westbrook and the Thunder are lacking in the most important number -- wins.
The All-Star guard and Oklahoma City face a two-games-to-none deficit Friday night as they return home to face Houston in Game 3 of their first-round Western Conference playoff series.
Westbrook averaged a triple-double during the Thunder's 47-win regular season to state his case for MVP. He guided Oklahoma City in as the sixth seed in the conference after averaging 31.6 points, 10.7 rebounds and 10.4 assists.
In the first two games, Westbrook is averaging 36.5 points, 10.5 rebounds and 10 assists.
Westbrook, who set an NBA-record with 42 triple-doubles in the regular season, added his sixth career playoff-triple-double in Oklahoma City's 115-111 loss Wednesday.
He scored 22 in the series opener on Sunday night when the Rockets rolled to a 118-87 win. On Wednesday, he totaled 51 points, 10 rebounds and 13 assists.
"I don't give a (expletive) about the line," Westbrook said. "We lost."
Perhaps the most telling numbers about Oklahoma City being a one-man show was Westbrook shooting 17 of 43 from the field.
"Seventeen of 43, we'll take that," Houston coach Mike D'Antoni said. "That's what we try to do. We try to keep him under 50 percent."
Nobody else took more than 14 shots for Oklahoma City, which might not have mattered if Victor Oladipo did not produce a disappointing 11-point, 4-of-14 performance. Andre Robertson was Oklahoma City's second-leading scorer at 12 points but needed 12 shots to get there.
Those things resulted in the Thunder falling to 4-2 when Westbrook gets a triple-double in the postseason. Their other playoff loss in a Westbrook triple-double game occurred in Game 5 of the 2014 first round against the Memphis Grizzlies.
In 2014, Westbrook had help from Kevin Durant. Now, his help is not an All-Star at any position.
So, as the Thunder face a 2-0 deficit for the second time in the playoffs, coach Billy Donovan must figure out how to get more efficiency from Westbrook, maybe even some rest for him in the fourth quarter and a way to get others to benefit from the multiple defenders on Westbrook.
Those factors seemed to take center stage during the fourth quarter Wednesday. Westbrook, who often encountered tight defense from Houston forward Trevor Ariza, was 4 of 18 in the fourth and still scored 15 of Oklahoma City's 22 points.
The Thunder shot just 24 percent in the final 12 minutes while getting little from others as Westbrook's shot did not fall. Oladipo missed both of his shots, Roberson missed two of three shots, and Enes Kanter only took one shot.
"That's what you have to do," Ariza said of defending Westbrook. "You have to find ways to get stops, find ways to win. He's going to score a lot of points. He takes the majority of shots on his team. He's going to find ways to get his, so if we can limit everybody else, we have a good chance."
The Rockets are in their current position despite not playing well throughout all of Game 2. Houston fell behind 16-4 in the opening minutes, trailed by 15 in the first half and by 12 with 3:51 remaining in the third.
"It didn't surprise me," D'Antoni said. "Whatever these guys do collectively as a group, it doesn't surprise me. I just told them, 'A great game, a great gut-check kind of win.' You have to have those in the playoffs. You can't play great all the time. We just hung in there, hung in there."
The Rockets are getting plenty from James Harden, who is averaging 31 points, 8.5 assists and 5.5 rebounds but is doing it much more efficiently than Westbrook, shooting 20 of 45 from the floor.
Unlike Westbrook, Harden is getting help.
In Game 2, reserves Eric Gordon and Lou Williams combined for 43 points on 16-of-28 shooting, including 6-of-10 shooting from 3-point range. They were a combined 6 of 17 in the series opener, but Nene and Clint Capela provided efficiency inside by combining on 14-of-17 shooting.
"We've got so many guys to choose from," D'Antoni said. "Somebody's going to come out and do something."
Still, there are areas for Houston to clean up. On Wednesday, the Rockets were outrebounded 48-37, and Oklahoma City had a 20-9 advantage in second-chance points.
A 3-0 lead has proven insurmountable so far in NBA playoff history, setting the mindset of both teams for Friday.
"I think we'll play desperate, as well," Williams said. "We have an opportunity to put ourselves in a pretty solid position and try to go up in this series. We understand what's at stake here. I'm sure they understand their backs are against the wall. We have to come out and match their effort."