Thunder GM sees a bright future with young talent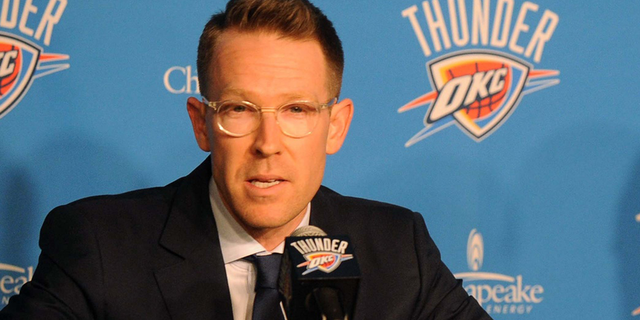 OKLAHOMA CITY (AP) -- Thunder general manager Sam Presti finds wannabe executives amusing.
One of the most common questions he gets involves how the Thunder plan to address depth at point guard behind Russell Westbrook. The Thunder struggled at times, especially in the playoffs, when their MVP candidate went to the bench.
"A lot of people have mentioned that to me, in the grocery store and other places," he said Monday, drawing laughter from the media. "That's the great thing about working in Oklahoma City."
Presti said the backup point guard position will be looked at in the offseason, but he also warned against making too much of specific issues following the 4-1 loss to Houston in the first round of the playoffs.
"I don't want to place so much weight on five games in the post-season that were decided by the free-throw line and the rebounding margin," he said. "We found a way to get ourselves to 47 wins throughout the regular season."
Presti said he is proud of how the Thunder performed this season after losing Kevin Durant to free agency. He noted that many teams fall much further after losing a player of Durant's caliber. Westbrook set the NBA record for triple-doubles in a season, averaged a triple-double and kept fans energized throughout the season.
Still, the Thunder didn't reach their usual level. A first-round exit was tough to take for a franchise that reached the Western Conference finals four of the previous five years.
"We still want to be playing basketball right now," Presti said. "So we weren't able to advance this year, and we understand that. But we also understand that we accomplished quite a bit with respect to the things that we felt were really important to the season."
Presti said he's open to making moves in the offseason to add to the roster, yet he feels that with one of the youngest teams in the league, the Thunder will likely improve significantly from within.
A key will be trying to get Westbrook to sign an extension in the offseason. He signed a new deal last summer, but he has a player option for 2018-19. The new collective bargaining agreement allows for a team to extend a player five years if there is a year remaining on his current deal. Westbrook said last week that he hasn't thought about it yet. Presti hopes to avoid another Durant situation.
Andre Roberson is a restricted free agent. He has offensive limitations, but should draw attention as one of the best defensive wing players in the league. Presti said the sides had productive conversations in the fall.
"Definitely want to be back," Roberson said last week. "Definitely want to do anything to work it out. I love the team, love the organization, and love what we're all about, and I definitely want to stick around. So I'm pretty sure we can work something out."
Presti said he sees great potential in the young core of Steven Adams, Enes Kanter and Victor Oladipo.
Adams averaged career highs of 11.3 points and 7.7 rebounds and ranked among the league leaders in field goal percentage. He struggled in the playoffs at times, but he improved overall.
Kanter averaged 14.3 points and 6.7 rebounds on 55 percent shooting and was considered a contender for sixth man of the year before he broke his forearm. His defense improved this season, and Presti said he'd like to see Kanter extend his mid-range shot to 3-point range.
Oladipo averaged 15.9 points last season and had career highs in field-goal percentage and 3-point percentage. Presti said he could handle more of the point guard duties in the future.
Presti believes the core young group, along with emerging players Doug McDermott, Alex Abrines, Domantas Sabonis, Semaj Christon and Jerami Grant, will benefit from their playoff experience this season.
"Now, this team knows what it's like to be within a couple games of home-court advantage coming down the stretch of a playoff run," he said. "It knows what it's like to go through a playoff series where, you know, you're losing the series on the margins. They know what it's like to play with one another and understand each other's tendencies. And I think that's going to bode well for us."