Three-time Indy 500 winner Dario Franchitti crashes in Houston race, while debris injures 13 spectators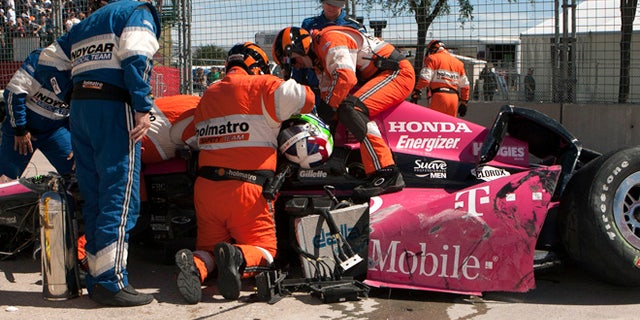 Three-time Indy 500 winner Dario Franchitti has been hospitalized after being involved in a serious crash in the Houston Grand Prix Sunday.
Franchitti was battling with Takuma Sato on the last lap of the IndyCar Series race when both cars hit each other, causing Franchitti to go airborne before he slammed into a catch fence on the side of a turn, FoxSports.com reports. Driver EJ Viso managed to swerve and avoid Franchitti's car, but he struck Sato.
Debris from the crash injured 13 spectators at the race, the Houston Fire Department told Fox News. Two of the spectators were sent to an area hospital, while medical responders attended to the others on-scene. An IndyCar series official was treated for minor injuries.
Franchitti was placed on a stretcher and into an ambulance. Chip Ganassi, owner of the team Franchitti races for, said the driver was awake and alert, only complaining of a sore ankle and back, FoxSports.com reports.
Franchitti suffered two fractured vertebra, a fractured right ankle and a concussion, according to The Associated Press. He will not need surgery and will be held overnight at the hospital.
Sato and Viso walked away from the wreckage themselves.
The accident in Turn 5 was reminiscent of Dan Wheldon's fatal 2011 crash at Las Vegas in that competitors had to drive through the wreckage.
It was a sobering moment for race winner Will Power, who broke his back in Las Vegas crash, and for Scott Dixon, who took control of the IndyCar championship race Sunday but passed by teammate Franchitti's car and waved in an attempt to get an update on his condition.
"The smells and the visuals, for me, and even talking to Will, you have the remnants of Vegas popping into your head with you coming around the corner and you can't drive through it because there's a field of debris," Dixon said. "There was no near the amount of damage that we saw (in 2011), but seeing the replay was a big shock."
Power initially seemed shaken when he climbed from his car and admitted the accident reminded him of Las Vegas, where he and Wheldon both sailed into the fence.
"I just saw Dario's car and him sitting in it with a lot of damage, and yes, that's what it reminded me of," Power said. "I hate seeing that. We try to keep these cars on the ground."
Click for more from FoxSports.com.
The Associated Press contributed to this report.