Three signs the Packers could be back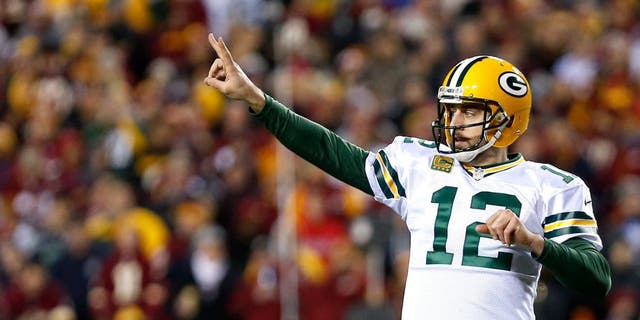 NEWYou can now listen to Fox News articles!
LANDOVER, M.D. -- Heading into the playoffs, a murky cloud hung over the heads of the Green Bay Packers.
Aaron Rodgers didn't seem to be himself all throughout the year. The defense didn't seem particularly strong. The Packers just couldn't seem to pick it up in the clutch moments, a trait that is vintage Green Bay football.
But in their Wild Card matchup against the Washington Redskins, that Green Bay magic seem to flow, and the Packers suddenly looked like they were primed for another deep playoff run.
Here are three signs the Packers are back.
1. They had a strong running game.
"We were able to move the ball pretty well," Cobb said following the game. "We were able to pick up some first downs. We were able to put some points on the board, which was huge for us. We have to continue that."
Lacy and Starks had big games as well. Lacy burst out of the backfield for a 30 yard run on a crucial scoring drive late in the third quarter. Starks added a big play of his own, a 22-yard scamper in the fourth quarter that would lead to another Packers score.
2. Aaron Rodgers overcame his early struggles
But Rodgers settled into the game, completing 20 of his next 28 passes. And Rodgers wasn't relying on just one player. Rodgers completed passes to seven different receivers. Cobb and Devante Adams, who Rodgers dubbed as "Mr. January," each caught a pass for a touchdown, and each one was due to Rodgers surgically carving his way through the Redskins defense. He recognized that it took him a while to settle in, but he stuck with the game plan and pushed through the adversity.
"I was just looking for my matchups," Rodgers said. "Missed a couple early on, but I got settled in and made some better throws and some good adjustments. I trusted the plan and Mike (McCarthy) was rolling it quickly."
"We just started off a little slow and we picked it back up," Starks added. "We did what we know we could do. We just move the ball, be patient, take what they give us."
3. The defense stopped a red-hot offense
"I thought we just made the adjustments we needed to (do)," Clay Matthews said. "For the most part, we stopped the run, and fortunately our offense was able to put points on the board."
"I think we did a decent job of neutralizing the run game," B.J. Raji said. "We felt that if we could do that, we'd give our rush guys and secondary a good chance at the ball."
Those rush guys got to Cousins early and often. The Packers defense combined for six sacks, and Cousins at time seemed flustered.
The Packers looked like their old selves in their opening game of the playoffs. Many had written off Green Bay, as their team on both sides of the ball just didn't seem to have that same confidence and swagger that they were known for. But Green Bay doesn't care about your expectations. They only care about what they believe in, and they believe this team has what it takes to win.
"We don't play for them," Rodgers said in reference to those who have written the Packers off. "We play for each other and we had a good plan. (We) played with a lot of passion, and executed really well."