Three Raiders who'll need to step up in Aldon Smith's absence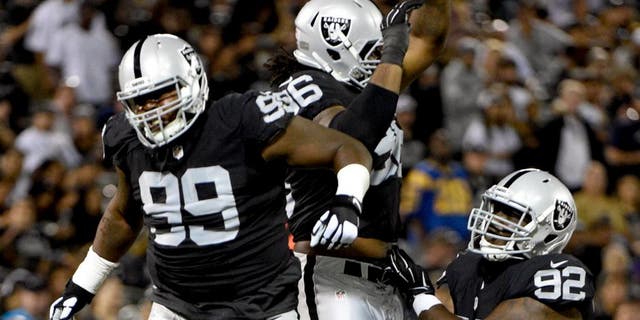 The Raiders might have a few options on roster to fill in for Aldon Smith. Kyle Terada USA TODAY Sports
Oakland's pass rush was inconsistent enough when Week 10 came to a close.
The loss of Aldon Smith only makes matters worse. They'll sorely miss his pass-rushing ability opposite Khalil Mack -- especially if this team sputters in their playoff hunt down the stretch.
That won't happen if Raiders defenders step up. Here are three candidates that could play Smith's role and still keep Oakland's defense together:
1. Mario Edwards Jr., defensive end: The young Raider is up for Rookie of the Week for a reason. He tallied 11 tackles and a sack vs. Minnesota -- proof enough that he's ready to take on even more responsibility.
2. Denico Autry, defensive end: He's a 6-foot-5, 270-pound spark plug at end or tackle. Whether or not the second-year pro can handle starters snaps is another question.
3. Max Valles, linebacker: Valles could be a secret weapon off the Raiders' practice squad. The sixth-round pick has long, lanky arms like Smith's that he can use to press the run or collapse the pocket. He's just super raw and needs more time to get going.