Three Gophers invited to NFL Scouting Combine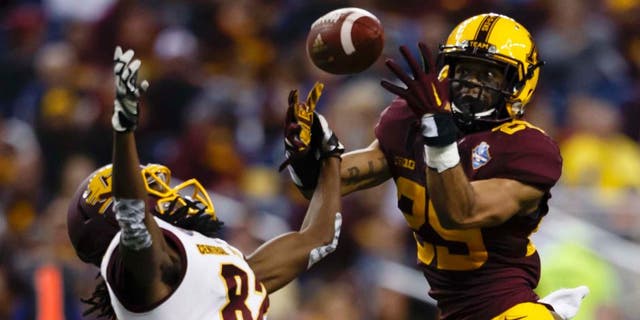 NEWYou can now listen to Fox News articles!
The NFL has invited three former University of Minnesota football players to its annual scouting combine later this month.
Linebacker De'Vondre Campbell and defensive backs Briean Boddy-Calhoun and Eric Murray will attend the event, which the NFL will hosts from Feb. 23-29 in Indianapolis and the NFL Network will broadcast.
The combine is an opportunity for college players to boost their NFL draft stock. Executives and coaches from all 32 NFL teams attend the event to evaluate the prospects' physical abilities and interview them.
The league invites more than 300 of the top college football players each year.
Campbell, a linebacker, played in 39 games in three years at Minnesota, making 208 career tackles and 6.5 sacks. The Fort Myers, Florida, native also recovered three fumbles and had two interceptions.
Boddy-Calhoun, a cornerback, played 39 games in four years at Minnesota, finishing with 113 tackles and 10 interceptions, good for sixth in program history. He was an All-Big Ten Third Team media selection this past season.
Murray, also a cornerback, played in 52 games in four years, starting his final 39. The Milwaukee native made 192 tackles and two interceptions and was a team captain this past season. He was also an All-Big Ten Third Team selection this past season.
This is the second straight year Minnesota will have three players at the combine. The NFL invited David Cobb, Maxx Williams and Damien Wilson in 2015.